School-based testing for COVID-19 & microcluster zones | Health checks  | Social distancing, face coverings & PPE | Face coverings required for all students  | Infection control strategies  | Management of ill persons  | Contact tracing | COVID-19 testing | Return to school after illness  | Health hygiene | Cleaning and disinfecting | Vulnerable populations/accommodations  | Visitors on campus | School safety drills | Facilities | NYSDOH Interim Guidance for In-Person Instruction
The health and safety of our students, our staff and their families is our top priority. We want students and employees to feel comfortable and safe returning to school campuses. Our reopening plan incorporates recommendations and guidance from the Centers for Disease Control and Prevention (CDC), the New York State Department of Health (NYSDOH) and the New York State Education Department (NYSED).
The following protocols and procedures will be in place in all district schools and the Whispering Pines UPK program for the 2020-21 school year should in-person schooling resume. Anyone with questions or concerns should contact our COVID-19 safety coordinator at jniedermeier@duanesburg.org or (518) 895-2279, ext. 241.
For more information about how health and safety protocols and trainings will be communicated to students, families and staff members, visit the Communication/Family and Community Engagement section of our reopening plan.
Health checks
The district has developed resources to educate parents/guardians and staff members regarding the careful observation of symptoms of COVID-19 and health screening measures that must be conducted each morning before coming to school. The resources include the requirement for any student or staff member with a fever of 100°F or greater and/or symptoms of possible COVID-19 virus infection to not come to school. The Centers for Disease Control and Prevention (CDC) list of Coronavirus symptoms was used to develop these resources.
The Duanesburg Central School District will implement the following practices to conduct mandated health screening:
Health checks: All students and staff members will be required to submit a four question self-screening questionnaire through an online web application and maintained by Capital Region BOCES each morning before coming to school. This application can be found at: https://entry.neric.org/dcs.
Any students or staff members who exhibit any of the symptoms of COVID-19, have been with anyone diagnosed with COVID-19, or have been in areas designated as COVID-19 hotspots should stay home, notify covidhotline@duanesburg.org, and quarantine until documentation has been provided showing evidence of a negative test.
Parents will be sent communications regarding health screening procedure via One Call Now and our district website. All parents who do not have internet access may request a MiFi hotspot by contacting joneill@duanesburg.org. All students will be provided with an electronic device capable of accessing the internet to use at home for accessing this screening tool. 
Students who must be screened at school will report immediately to the nurse's office, have temperatures checked in an efficient and  confidential manner by a school nurse or another trained staff member, who will wear PPE in accordance with CDC guidelines. Temperatures will be taken with contactless thermometers, which will be cleaned between uses. Students in queue will wait outside the nurse's office in a queue with six feet of space between each person.
Data collected manually will be input into the screening application and data will be retained for the required period of time.
If any individual responds positively to any screening question, that individual will be immediately isolated from the building population until such time as he or she can leave the campus. Individuals whose answers to any of these screening questions change outside of normal school/work hours should contact covidhotline@duanesburg.org .
Reminders about the health screening policy will be sent via One Call Now every week for the first three weeks of school and then sent bi-weekly.
Social distancing, face coverings & PPE
The district has developed a plan with policies and procedures for maintaining social distancing of all students, faculty, and staff when on school facilities, grounds and transportation.
CDC guidelines state that cloth masks should be worn whenever keeping a 6-foot social distance is not possible. While the default of classroom furniture arrangements at DCS will encourage social distancing, we know that learning often requires movement and collaboration. Because of this staff and students in grades 2-12 will be required to wear masks at all times  indoors and on school buses. Students in Pre-K-1 will be encouraged to wear masks at all times, but will only be required to do so whenever social distancing cannot be maintained.
Students, staff and visitors to our schools will be expected to wear face coverings indoors, including on the school bus. Staff may remove masks when alone in rooms or offices. Students will be allowed to remove face coverings during meals and for short breaks of approximately 5 minutes in duration throughout the day. These breaks can occur when students are able to maintain appropriate social distance and  should be staggered so that students in close proximity do not take them at the same time.
Effective June 7, 2021, face masks are not required to be worn outdoors on school grounds, including during outdoor school sports. However, Responsible Parties may choose to require face masks outdoors on school grounds subject to the parameters of NYS Department of Health's "Interim Guidance for In-Person Instruction at Pre-K to Grade 12 Schools." The guidance also indicates that no student, teacher, staff member, or visitor may be prevented from wearing an acceptable face mask voluntarily on school grounds.
Students who are unable to medically tolerate a face covering will not be required to wear one and their parents/guardians will be asked to provide documentation from a doctor. Students unwilling to comply with social distancing or mask-wearing measures will be unable to attend school because of the risk this behavior may pose to others.
Because students and staff will need to be prepared to wear a face covering if another person unexpectedly cannot socially distance, they will be required to wear a face covering in all common areas (e.g., entrances and exits) and when traveling around the school.
An employee is allowed to wear their own acceptable face covering if they choose and masks will be provided to staff at no cost. Employees with healthcare provider documentation stating they are not medically able to tolerate face covering will not be required to do so.
Face coverings should not be placed on:
Children younger than 2 years old
Students where such covering would impair their health or mental health, or where such covering would present a challenge, distraction, or obstruction to education services and instruction
Anyone who has trouble breathing or is unconscious
Anyone who is incapacitated or otherwise unable to remove the cloth face covering without assistance
The district will instruct students, parents/guardians and staff, contractors and vendors on:
The proper way to wear face coverings
Washing hands before putting on and after removing their face covering
Proper way to discard disposable face coverings
Cloth masks will be provided
Two cloth masks, hand sanitizer, and other necessary personal protective equipment will be provided at no cost to students. Disposable gloves and masks will also be provided should the need arise on buses or in schools.
 A 12-week supply of masks, gloves, and hand sanitizer will be kept on hand. Supplies will be replenished as needed. Face coverings will be provided to students and staff, if needed, at no cost.
Acceptable face coverings for COVID-19 include, but are not limited to, cloth-based coverings and surgical masks that cover both the mouth and nose. Mask with exhalation valves or flaps should not be used.
Face shields, disposable gowns, nitrile gloves and other necessary PPE will be supplied to nurses in each building.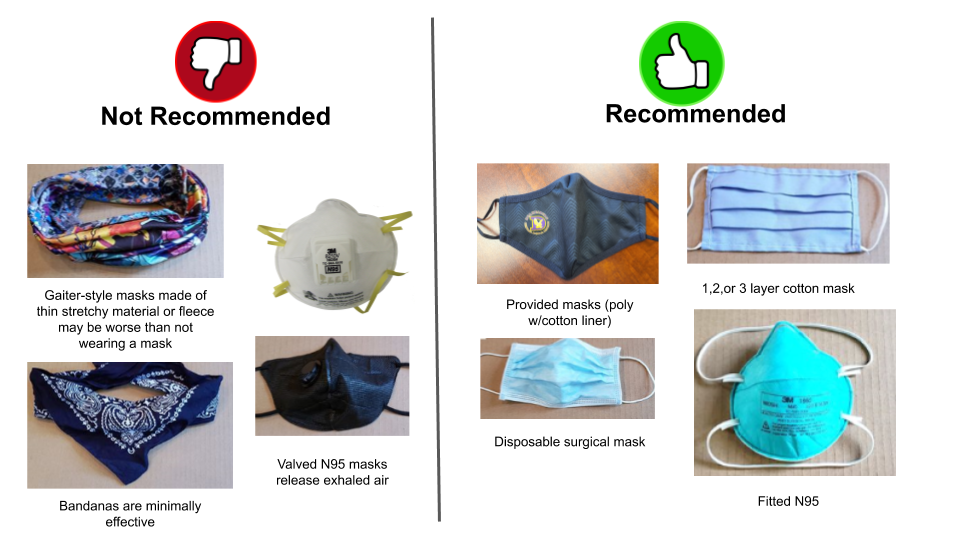 Infection control strategies
Students will remain in cohort pods much of the day with teachers coming to them.
Any space that is used by multiple classes of students will be cleaned and disinfected between groups.
Students will be assigned work spaces within the classrooms, and travel between different parts of the school will be minimized to avoid cross contamination. In addition, students will eat in classrooms.
Student classrooms will be at roughly 50% capacity. Desks will be spaced 6 feet apart and approximately 15 desks will be in each room.
Travel in the building will be reduced and large congregate spaces will not be used in order to reduce cross-contact.
Ventilation
The BAS (building automation system) shall be used to maintain the maximum allowable outdoor air flow possible while maintaining the comfort of the occupants. When the outdoor air is above 65 degrees dampers will open to 100%.
The dampers will start to close based on discharge air as the outdoor temperature drops. A minimum outdoor air damper position of 20% will be maintained unless it is not feasible to maintain a proper discharge air set point.
Humidity levels are best at 40 to 45% when possible. The occupied space temperature will be at a minimum of 70 degrees.
MERV 8 air filters will be changed at regular intervals of 240 hours running time. MERV 8 filters have 90 percent efficiency on particles that are 3 to 10 micrometers in size. At times more frequent changes are warranted depending on service area.
All building exhaust fans will be operational during occupied hours. Heat wheels will be bypassed on terminal equipment.
Windows will be open to increase air changes.
Plumbing Facilities and Fixtures
Restroom capacity will be reduced to provide for proper social distancing.
Drinking fountain spouts will not be used, though drinking fountain bottle fillers will be accessible.
School personnel will be utilized to monitor restroom areas throughout the day to ensure compliance with social distancing protocols.
Distance stickers will be placed on walls or floors to demonstrate appropriate social distance while waiting in queues.
Management of ill persons, contact tracing and monitoring
The district requires students, faculty, or staff members who develop COVID-19 symptoms during the school day to report to the nurse's office. If there are several students waiting to see the school nurse, students must wait at least 6 feet apart. The district has designated areas to separate individuals with symptoms of COVID- 19 from others until they can go home or to a healthcare facility, depending on severity of illness. One area will be used to treat injuries, provide medications or nursing treatments, and the other area will be used for assessing and caring for ill students and staff. Both areas will be supervised by an adult and have easy access to a bathroom and sink with hand hygiene supplies.
In the Elementary School, the COVID Isolation Room will be located in the Nurse's Office in the back room. This room has an outside window for airing out after a student/staff member leaves as well as a door that can be shut to block off from the rest of the Nurse's Office. Any supplies that will be kept in the room (currently this is where all the extra items for the Nurse's Office are located) will be kept in plastic bins with lids to reduce the chance of contamination.
In the Jr./Sr. High School, the COVID Isolation Room will be located in the current medication room and function the same way as the ES Isolation Room. The medications will be moved out of this room to allow ill student/staff members to be isolated with the door shut.
Any area visited by a suspected infected individual shall be closed off. Outdoor windows will be opened and fans are to be in place to exhaust the room air and increase circulation. A 24-hour wait period is best if possible. If not feasible, barriers will be placed to keep healthy occupants clear of the area being cleaned. All cleaning wipes and cloths shall be disposed of in a red bag and placed in the outdoor trash receptacle. The decontamination team shall remove their protective suits (Tyvek) immediately after the cleaning process.
Proper hygiene will be used at all times. Face shields will be worn in conjunction with face masks. Nitrile gloves are to be worn. Any breaches in PPE will be reported to a supervisor immediately. The Director of Facilities will inspect the disinfected area upon completion.
PPE requirements for school health office staff caring for sick individuals includes both standard and transmission-based precautions. In areas with moderate to substantial community transmission, eye protection (e.g., goggles or face shield) should be added. When caring for a suspect or confirmed individual with COVID-19, gloves, a gown, eye protection, and a fit-tested N-95 respirator will be used, if available. If an N-95 respirator is not available, a surgical face mask and face shield will be used.
School health office cleaning will occur after each use of cots, bathrooms, and health office equipment (e.g., blood pressure cuffs, otoscopes, stethoscopes). Health office equipment will be cleaned following manufacturer's directions.
Disposable items will be used as much as possible (e.g., disposable pillow protectors, disposable thermometers, disposable thermometer sheaths or probes, disposable otoscope specula).
Aerosol Generating Procedures
Respiratory treatments administered by nurses generally result in aerosolization of respiratory secretions. These aerosol generating procedures (AGPs) potentially put healthcare personnel and others at an increased risk for pathogen exposure and infection. The district requires the following PPE to be worn during AGPs: gloves, N-95 or a surgical mask with face shield, eye protection and a gown. PPE will be used when: suctioning, administering nebulizer treatments, or using peak flow meters with students who have respiratory conditions.
Treatments such as nebulized medication treatments and oral or tracheostomy suctioning will be conducted in a room separate from others with nursing personnel wearing appropriate PPE. For nebulizer treatments, if developmentally appropriate, the nurse will leave the room and return when the nebulizer treatment is finished.
Cleaning of the room will occur between use and cleaning of the equipment should be done following manufacturer's instructions after each use. 
If Students or Staff become Ill with Symptoms of COVID-19 at School
The district requires students or staff with a temperature, signs of illness, and/or a positive response to the questionnaire to be sent directly to a dedicated isolation area where students are supervised, prior to being picked up or otherwise sent home. Students will be supervised in the isolation area while awaiting transport home and will be separated by at least 6 feet.
Students will be escorted from the isolation area to their parent/guardian. Students or staff will be referred to a healthcare provider and provided resources on COVID-19 testing.
Please see the Schenectady County Public Health Department's resource on protocols for when a student or staff member is symptomatic or tests positive for COVID-19.
If a student or staff member has had close contact with an individual diagnosed with COVID-19
If a student or staff member has been diagnosed with COVID-19, the school district will be notified by the county of residence's Department of Health. The school district will notify those who have had close contact with the individual and advise them to self-quarantine for 14 days and schedule a COVID-19 test if symptoms arise. If this impacts a classroom pod, that entire pod will self-quarantine and shift to remote instruction.
Employees deemed critical for operations who have had close contact with an individual diagnosed with COVID-19 but have no symptoms will follow the Interim Guidance for Public and Private Employees Returning to Work Following COVID-19 Infection or Exposure.
 
Return to School After Illness
The district has established protocols and procedures, in consultation with the local health department(s), about the requirements for determining when individuals, particularly students, who screened positive for COVID-19 symptoms can return to the in-person learning environment at school. This protocol includes:
Documentation from a health care provider following evaluation
Negative COVID-19 diagnostic test result
Symptom resolution, or if COVID-19 positive, release from isolation
The district will refer to DOH's "Interim Guidance for Public and Private Employees Returning to Work Following COVID-19 Infection or Exposure" regarding protocols and policies for faculty and staff seeking to return to work after a suspected or confirmed case of COVID-19 or after the faculty or staff member had close or proximate contact with a person with COVID-19.
The district requires that individuals who were exposed to the COVID-19 virus complete quarantine and have not developed symptoms before returning to in-person learning. The discharge of an individual from quarantine and return to school will be conducted in coordination with the local health department.
School-based COVID-19 testing and microcluster zones
The state is labeling areas of New York with high COVID-19 rates as yellow, orange or red zones. If a region is placed in one of these zones, there are restrictions for businesses, gatherings and schools. Our goal is to keep our school buildings open if our region is labeled a zone. The state would require that our schools perform COVID-19 tests on a certain percentage of the school population in order to remain open.
COVID-19 Testing
Students who exhibit symptoms of COVID-19 can return to school with either a doctor's note of clearance and resolution of symptoms or a negative COVID-19 test and resolution of symptoms. COVID-19 tests can be obtained at many locations within close proximity of the district:
NYSDOH (SUNY Albany) Call to schedule an appointment 888-364-3065, drive through car required, insurance not needed, ages 3 and over. 
Wellnow Urgent Care, Balltown Road 518-387-3566, insurance needed, ages 2 and over only.
CVS, 855 Central Ave, schedule an apt at https://www.cvs.com/, drive through, car required, insurance not needed. ID required, 18 and over only. 
Rite Aid on Central Ave./ Rt. 155: schedule an appointment at https://www.riteaid.com/, drive through, car required, insurance not needed. ID required, 18 and over only. 
Community Care.com: Latham Urgent care, Need to be a CCP patient. 
Mobile Testing Schenectady: All ages,  no-cost COVID-19 TESTING. FYI: uses the less invasive nasal swab. Appointments strongly encouraged, call to register 518-419-0370. Weather Permitting, please visit https://www.schenectadycounty.com/publichealth for cancellation information.
In New York State, individuals can also receive information regarding testing and schedule an appointment for COVID-19 testing if they have had contact with someone with COVID-19 or are experiencing symptoms by visiting  https://covid19screening.health.ny.gov/  or by calling (888) 364-3065.
Contact Tracing
The district will notify the state and local health department immediately upon being informed of any positive COVID-19 diagnostic test result by an individual within school facilities or on school grounds, including students, faculty, staff, and visitors of the district.
To assist the local health department with tracing the transmission of COVID-19, the district has developed and maintained the following plan to trace all contacts of exposed individuals in accordance with protocols, training, and tools provided through the New York State Contact Tracing Program. 
DCS will assist with contact tracing efforts by: 
Keeping accurate attendance records of students and staff members
Ensuring student schedules are up to date
Keeping a log of any visitor which includes date and time, and where in the school they visited
Assisting the local health departments in tracing all contacts of the individual in accordance with the protocol, training, and tools provided through NYS.
Contact Tracing Program
If/when COVID-19 cases are discovered in the school, in consultation with the local health department, the district will close the room(s) where the infected individual spent time until it is inspected by the Director of Facilities and Maintenance. 
Confidentiality must be maintained as required by federal and state laws and regulations. School staff should not try to determine who is to be excluded from school based on contact without guidance and direction from the local health department.
For more information about how COVID-19 containment efforts will be communicated to students, families and staff members, visit the Communication/Family and Community Engagement section of our reopening plan.
School Closures
A closure refers to contingency plans, protocols, and procedures for decreasing the scale or scope of in- person education and/or closing the school. The district has worked with the Schenectady County Health Department to determine the parameters, conditions or metrics (e.g., increased absenteeism or increased illness in the school community) that will serve as early warning signs that positive COVID-19 cases may be increasing beyond an acceptable level. Reasons the district will close include, but are not limited to:
A regional infection rate over 9% after Aug. 1 or a  7-day rolling average of the infection rate above 9%. (If the infection rate rises above 9%, schools must wait until the 14-day average is below 5%).
A daily infection rate below 5% using a 14-day average, unless otherwise directed from the Schenectady County health department.
An absentee rate impacting the ability of a school to operate safely.
An advisement from the Schenectady County Department of Health
Prior to closing, DCS may also modify its operations to help mitigate a rise in cases in the following ways:
If infection rates in the region rise above 5%, we will advise medically vulnerable students and staff to participate only in remote school/work activities
For more information about how school closure information will be communicated to students, families and staff members, visit the Communication/Family and Community Engagement section of our reopening plan.
Health hygiene
The district will emphasize healthy hygiene practices for students and staff by providing initial and refresher education in hand and respiratory hygiene, along with providing adequate supplies and time for frequent hand hygiene. Signs will be posted throughout the school (e.g., entrances, restrooms, cafeteria, classrooms, administrative offices, auditorium, custodial staff areas) and regular messaging will be shared with the school community. Signage will be used to remind individuals to:
Stay home if they feel sick.
Cover their nose and mouth with an acceptable face covering when unable to maintain social distance from others or in accordance with any stricter policy implemented by the school.
Properly store and, when necessary, discard PPE.
Adhere to social distancing instructions.
Report symptoms of, or exposure to, COVID-19.
Follow hand hygiene, and cleaning and disinfection guidelines.
Follow respiratory hygiene and cough etiquette.
Hand Hygiene
Students and staff must carry out the following hand hygiene practices:
Wash hands routinely with soap (any kind) and water for at least 20 seconds.
Dry hands completely after washing. Use paper towels to dry hands if available instead of a hand dryer if they are available.
If soap and water are not available, use an alcohol-based hand sanitizer that is at least 60% alcohol. Hand sanitizer should be rubbed on the hands until it is completely absorbed. DO NOT dry hands if sanitizer is used.
Hand washing should occur:
Before and after eating (e.g. snacks and lunch).
After going to the restroom or after assisting a student with toileting.
After using a tissue.
Before and after using shared materials.
Before and after putting on or taking off face masks.
After coming in from the outdoors.
Anytime hands are visibly soiled.
Respiratory Hygiene
The COVID-19 virus spreads from person to person in droplets produced by coughs and sneezes. Therefore, the district will emphasize the importance of respiratory hygiene.
Students and staff must carry out the following respiratory hygiene practices:
Cover a cough or sneeze using a tissue. If a tissue is used, it should be thrown away immediately. 
If you don't have a tissue when sneezing or coughing, sneeze into your elbow.
Wash your hands after sneezing or coughing.
Face coverings are protective. Wearing a face covering will keep the respiratory droplets and aerosols from being widely dispersed into the air.
For more information about how hygiene information will be communicated to students, families and staff members, visit the Communication/Family and Community Engagement section of our reopening plan.
Cleaning and disinfecting
The district will ensure adherence to hygiene and cleaning and disinfection requirements as advised by the CDC and DOH, including "Guidance for Cleaning and Disinfection of Public and Private Facilities for COVID-19," and the "STOP THE SPREAD" poster, as applicable. Cleaning and disinfection logs will be maintained that include the date, time, and scope of cleaning and disinfection.
Examples of facility types where cleaning and disinfection frequency will be distinguished include:
Bathrooms
Athletic training rooms, locker rooms
Health offices, isolation rooms
Administrative offices (main office, reception area)
Frequently touched surfaces in common areas (door handles, elevator buttons, copy machine keypads, etc.)
Breakrooms
Cafeterias/Kitchens
Computer labs
Science labs
Classrooms
Maintenance offices and work areas
Bus Garage
Buses, school vehicles
Libraries
Large meeting areas (auditoriums, gymnasiums, music rooms)
Playgrounds (cleaning only)
Outdoor seating areas (plastic or metal)
Regular cleaning and disinfection of the facilities will occur, including more frequent cleaning and disinfection for high-risk and frequently touched surfaces. This will include desks and cafeteria tables, which should be cleaned and disinfected between each individual's use. Cleaning and disinfection will be rigorous and ongoing and will occur at least daily, or more frequently as needed.  The district will ensure regular cleaning and disinfection of restrooms, including cleaning and disinfecting them more often depending on frequency of use, and restroom capacity will be reduced.  
The frequency of cleaning and disinfection will be as follows:
Classrooms, halls, toilet facilities, offices, nurse office, gymnasium, cafeteria, all rooms and areas which are or have been occupied. Outdoor handrails. Door buzzer buttons and the elevator will be cleaned:

These areas shall be cleaned daily during the evening shift.
In both the Elementary and Jr./Sr. High School, the day cleaner will routinely, every hour, check toilet rooms and wipe down the main entrance door grab handles, elevator and high contact surfaces. This worker will perform other duties cleaning and supporting main office needs as well.
Closed areas will include:
Vending machines
Drinking fountains
Cafeteria
Suspended programming:
Vocal and Instrumental Music
The following EPA-approved cleaners will be used for disinfecting:
70627-62  Alpha HP hospital grade disinfectant
6836-340  Flex wipes
46781-12  Cavi Wipes
6659-3 Spray 9
Clorox bleach
Daily shift cleaning manpower
1 day cleaner full time at the High School  8:00 to 4:30 p.m.
1 day cleaner full time at the Elementary School  8:00 a.m. to 4:30 p.m.
Additional support, 3 maintenance workers available for flexible cleaning as needed throughout the day at both sites.
Evening shift manpower
3 evening cleaners at the High School 2:30 to 11:00 p.m.
2 evening cleaners at the Elementary School 2:30 to 11:00 p.m.
Health Hygiene Training
Students, faculty, and staff will be trained on proper hand and respiratory hygiene, and such information will be provided to parents and/or legal guardians on ways to reinforce this at home.
Custodial:
Custodial and Maintenance workers shall undergo medical evaluations and fit testing to don N-95 masks. Workers who are fit to wear the masks will be part of the Decontamination Response Team. These workers shall be available to assist with Transportation Bus disinfecting in the event of COVID suspected contamination if needed in addition to the building disinfecting.
COVID-19 training shall be completed.
Bloodborne pathogen training shall be yearly.
MSDS sheets along with product use information can be found in the custodial closets and maintenance office.
Training videos in conjunction with discussions are in use to maintain effective and uniform cleaning practices. Training is on a continuing basis.
The buildings shall be inspected by the Director of Facilities daily. A log will be kept of the inspection results and stored in the Facilities office. This is to be performed when school is in session.
The district will provide and maintain hand hygiene stations around the school, as follows:
For handwashing: soap, running warm water, and disposable paper towels.
For hand sanitizing: an alcohol-based hand sanitizer containing at least 60% alcohol for areas where handwashing facilities may not be available or practical.
Accommodations will be made for students who cannot use hand sanitizer.
For more information about how cleaning and disinfection information will be communicated to students, families and staff members, visit the Communication/Family and Community Engagement section of our reopening plan.                     
Vulnerable populations/accommodations
We recognize that some students and staff members are at an increased risk for severe COVID-19 illness, live with a person who is at an increased risk, or simply do not feel comfortable returning to an in-person educational environment. It is our goal that these individuals are able to safely participate in educational activities.
Elementary School
While students electing to stay home may stream instruction during the day following their grade's in person schedule, recordings of classes will also be made available upon request. If the entire school needs to transition to remote learning, core classes will be streamed at the following schedule:
ELA – 9:00 a.m.
Math – 10:15 a.m.
Social Studies/Science – 11:30 a.m.
Support Services – 12:15 p.m.
Jr./Sr. High School
Because all classes will be streamed, students who are not in school may also connect to them from their homes remotely. The same period schedules will be followed whether instruction is in person or remote. Recordings of instruction will also be made available upon request. Schedules with both Google Meet classrooms and physical classrooms will be provided to students in August.
Staff
While some staff members have occupations that may lend themselves to working remotely, many others do not. We will work in consultation with the staff member and, if applicable, his or her union representatives, to determine appropriate accommodations.
Visitors on campus
Outside visitors or volunteers will be limited and must complete necessary health screening before being allowed in a district building. Parents/guardians will report to the front office and not go beyond unless it is for the safety or well-being of their child. Essential visitors to facilities will be required to wear face coverings and will be restricted in their access to our school buildings. Visitors must follow all safety protocols.
School safety drills
The district will conduct fire (evacuation) drills and lockdown drills as required by education law and regulation and the fire code without, exceptions. Schools must continue to conduct mandatory fire and lockdown drills according to the existing statutory schedule. Drills will be conducted in a manner that maintains social distancing at exits and gathering points outside the building, while still preparing students to respond in emergencies. Students will also be instructed that maintaining social distancing in an actual emergency that requires evacuation or lockdown may not be possible and should not be the first priority.
Drills will be conducted  on a "staggered" schedule, where classrooms evacuate separately rather than all at once, and appropriate distance is kept between students to the evacuation site. Staggering by classroom, minimizes contact of students in hallways, stairwells, and at the evacuation site. The district will also ensure that all students will practice drills when in the building.