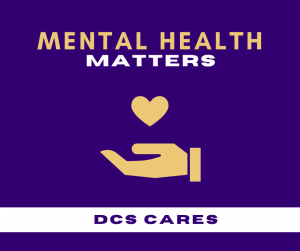 We've seen a lot of changes and challenges in recent months. It can create a lot of stress and uncertainty for children and young adults. But we want our families to know we've got their backs. 
DCS has a network of staff members and resources to support the social and emotional well-being of our students. For some, that support might include new tools or the right strategies to help manage challenges or stress. Others might benefit from talking to someone outside of their friend and family circles.
"Having a sense of connectedness to an adult in our school can be invaluable to a child moving through moments of stress and uncertainty," elementary school social worker David Presson said. 
Supporting school success for your child
Whether your child is learning with us in school or off-site/remotely, this school year is different than any other. The Centers for Disease Control (CDC) has shared some ways you can help support your child during the school year. More tips for a successful school year are available on the CDC website.
Check-in daily with your child about how school is going and about interactions with classmates and teachers. Learn how they are feeling about their new school setting and routine and reassure them that you, their teachers and school staff are ready to help them work through any uncomfortable feelings they may be having.

Changes in your child's behavior may happen. Watch for changes like crying or irritation, excessive worry or sadness, unhealthy eating or sleeping habits, or difficulty concentrating, which may be signs of your child struggling with stress and anxiety. Reach out to your child's teacher or school social worker or counselor for support.

Try to attend school activities and meetings. Our schools may offer more of these virtually. As a parent/caregiver, staying informed and connected may reduce your feelings of anxiety and offer a way for you to express any concerns you may have about your child's school. But, you don't have to wait for scheduled meetings to reach out to your child's teacher, principal or support team. We're here at any time to talk with you and help make school work well for your child. 
We're here to support you
Along with a social worker at each school building, students are supported by a team that includes a school psychologist, licensed mental health counselor, school counselors and nurses. They work together to provide general counseling, crisis counseling and special education services.
"The biggest thing is finding out what the supports are and how to use them," high school social worker Kristin Mills said. "We're here to help you navigate that." 
On-site counseling is available
Yvonne Lerner is a licensed mental health counselor who works full-time at DCS. She provides individual and family counseling services at the district's on-site behavioral health clinic. This service is offered in conjunction with Northern Rivers Behavioral Health Center. At a parent or guardian's request, Lerner can provide care during regular school hours through a student's health insurance. She works at DCS year-round to offer services during summer and holiday breaks. 
"My favorite part of my job is working with families who open their world to me and invite me to help them heal," Lerner said. "Therapy is a process and it is incredibly gratifying to work with people who are willing to engage in treatment to grow."
Parents and guardians seeking more information should contact school social worker Kristin Mills at kmills@duanesburg.org 518-895-3000 ext. 232, or Yvonne Lerner at ylerner@duanesburg.org 518-895-5350 ext. 235.
Video: Coping with Stress
DCS Mental Health Counselor Yvonne Lerner talks about how students and their families can cope with stress and seek support.
Family Emergency Support and Counseling Resources 
24/7 Crisis and Mental Health Support
Children, families and adults experiencing emotional and/or behavioral crisis.
Northern Rivers – 518-292-5499

Suicide Prevention Hotline – 800-273-8255 or call 911

NYS COVID-19 Emotional Support Hotline – 844-863-9314
Grief Support Services
No cost support is available for grieving children, aged 3-17, who may have experienced the death of a family member or friend due to natural causes, illness, suicide, homicide or accidents. 
24/7 ChildHelp National Child Abuse Hotline
Reach a professional crisis counselor who—through interpreters—provides assistance in over 170 languages 24/7 in the U.S. and Canada. All calls are confidential. Services include crisis intervention, information, and referrals to thousands of emergency, social service, and support resources.
National Domestic Violence Hotline
Advocates are available 24/7/365 to talk or text confidentially with anyone experiencing domestic violence, seeking resources or information, or questioning unhealthy aspects of their relationship. 
COVID-19 Resources