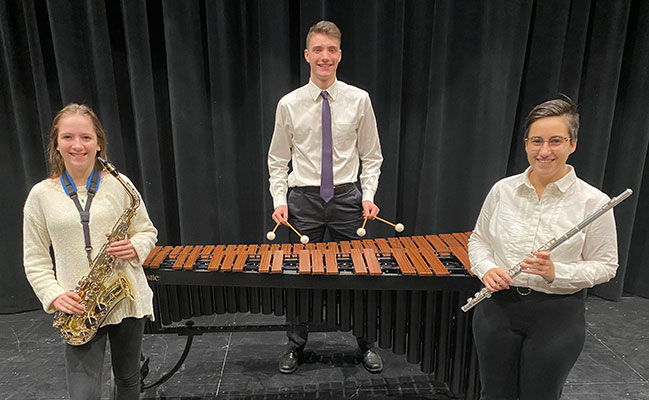 DCS students Heather Black, Paul Munson and Rachel Zeh were standouts at the 21st Annual Donald Webster Solo Festival at Cobleskill-Richmondville High School on Feb. 1, bringing home top awards for performing challenging pieces.
"In unprecedented fashion, all three Duanesburg participants won their age groups, giving Duanesburg a clean sweep of the festival," said music teacher Scott Hopkins. "Heather received a check for $250, Rachel won $375, and Paul was the winner of the Graduating Senior award, which included a $750 prize!"
All of the pieces that Duanesburg students entered the festival with were either rated as New York State School Music Association (NYSSMA) 5 or 6, which are the most challenging levels. Heather performed the first movement of "Three Romances" by Robert Schumann for alto saxophone in the 6-8th grade age group.
Rachel played Gabriel Fauré's "Fantasie, Opus 79″ for flute in the 9-11th grade age group. Paul performed, on marimba, both "The Children's Prayer" by Engelbert Humperdinck and "Rain Dance" by Alice Gomez in the Graduating Senior age group.
Heather, Rachel and Paul perform in the Duanesburg School Band program, the Duanesburg Jazz Band club, study their primary instrument privately, and double on other instruments. Rachel also plays in the Schoharie Valley Concert Band, and both she and Paul are members of the Empire State Youth Orchestra's top two ensembles; Rachel is in the Repertory Orchestra and Paul is in the Symphony Orchestra.
The objectives of the festival, held by the Schoharie Valley Concert Band, are to develop musical excellence as a solo performer, encourage the performance of solo literature, foster the continued study of music, and recognize outstanding solo performances by Schoharie County Music Educators Association student musicians performing on a concert band instrument. DCS had one student enter each of the festival's three age groups.
The Schoharie County Music Educators Association includes Berne-Knox-Westerlo, Cobleskill-Richmondville, Duanesburg, Middleburgh, Sharon Springs, and Schoharie school districts.
For more information about the Schoharie Valley Concert Band, visit svconcertband.org.