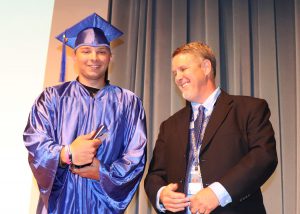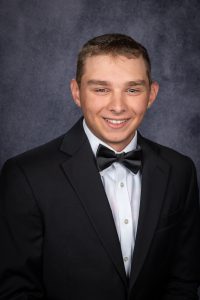 Duanesburg senior TYLER DREXEL is wrapping up his high school career with several accolades and awards to honor his hard work and commitment at the Capital Region BOCES Career and Technical Education Center where he studied Construction/Heavy Equipment at the Schoharie campus.

BOCES graduated 104 students in a June 13 ceremony held at Cobleskill-Richmondville High School, during which Drexel was one of two students named as "Outstanding Students of the Year." He shared the honor with Justin Zier of Schalmont.  Zier graduated from the Automotive Trades Technology program.
Additionally, the NY Board of Regents presented a Regent Eleanor Powell Bartlett scholarship to Drexel at their June, 2023 board meeting. Drexel is the first Capital Region BOCES student to receive the very prestigious state-wide award, which recognizes the important role that Career and Technical Education plays in New York. CTE is a key priority of the New York State Education Department (NYSED) and former Regent Eleanor Powell Bartlett's generous donation allows NYSED to recognize students who exemplify these ideals.
New York State Education Department Assistant Commissioner David M. Frank praised the teen.
"Your grit, tenacity, and determination exemplifies the dedication and lofty ambitions needed to pursue a career through Career and Technical Education. Your leadership is an example for other students in pursuing an academic course of study that addresses the human capital and vital workforce needs of our state to ensure a bright and prosperous future for you and all New Yorkers," Frank said.
An aspiring landscaping business owner, Drexel plans to attend SUNY Schenectady's Entrepreneurship Certificate program while working at Wyanski Painting in Rotterdam. He hopes to open his own pond-making, landscaping operation soon. While at SUNY Schenectady, he will be a member of the school's bowling team.
Drexel credits BOCES with giving him the skills to make him successful.
"At BOCES, you learn general life skills, how to be employable, how to work with other people and how to work together to accomplish a common goal. BOCES is not just about learning technical skills, it's about learning life skills," he said.
Drexel credits his father for his passion for heavy equipment and construction, saying his dad's work selling building supplies exposed him to the industry and the people who work in it.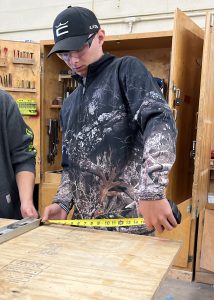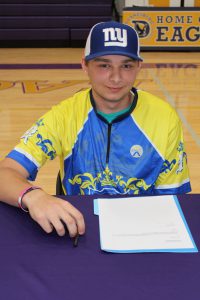 Capital Region BOCES faculty, staff and administration praised the motivated scholar.
"Tyler demonstrates the personal skills of integrity, work ethic, professionalism and responsibility that we all seek in a student, a worker and a citizen. He is responsible, flexible and self-motivated and has been an active member of the CTE campus, as well as Duanesburg (his home district)," said Director of Career and Technical Education Jeff Palmer
Teacher Matt Millard said, "Tyler is wise beyond his years. He is always willing to go above and beyond to complete assigned tasks. This attitude is what makes him a great student and a pleasure to work with." 
In nominating the Duanesburg student, Capital Region BOCES Managing Program Coordinator-Business & Community Partnerships Nancy Liddle said, "Tyler is a leader with a passion, a true champion of his community and CTE!"