Students sat in as studio audience members, were given a behind-the-scenes tour, and met with show executives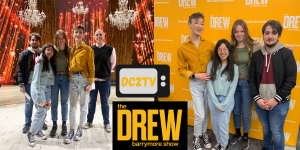 Digital Media Production is just one of the more than 40 elective classes available to students at DCS High School. The class is taught by the district's new technology teacher Chris Lohret. Mr. Lohret and his four students meet third period every school day, during which they produce, write and record the next day's on-demand episode of DC2TV Morning News.
Senior Andrew Longo is the lead anchor for the newscast. Freshman Jennifer Patino is the show's editor. Seniors Hannah Borski and Anthony Cervera are part of the technical crew, with Borski also serving as the weather reporter. The show is produced in a small room off of the district's wood shop, using a studio that Mr. Lohret and the students helped build. 
The DC2TV cast and crew took a field trip down to New York City on Wednesday, March 8, where they were able to attend a taping of "The Drew Barrymore Show," a daytime syndicated talk show hosted by actress Drew Barrymore and co-host Ross Mathews. Students traveled down to Manhattan that morning by train, and took the subway from Penn Station to the CBS Broadcast Center, where they were granted VIP seating as studio audience members for two 30-minute show tapings.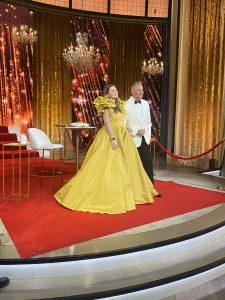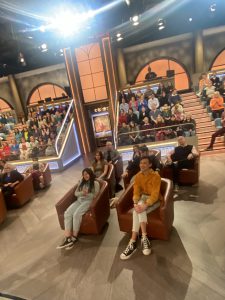 The shows that day were Oscars-themed, with a panel of fashion experts including celebrity designers/stylists Christian Siriano and Law Roach, and former "Fashion Police" co-host, Melissa Rivers. Other segments included a conversation with "Entertainment Tonight" co-hosts Nischelle Turner and Kevin Frazier via satellite, with predictions of who will take home awards at Sunday's big event — the Oscars, which will air live on ABC at 8:00 p.m. on Sunday, March 12.
The episodes of "The Drew Barrymore Show" aired Friday, March 10, 2023. Locally, in the Albany area, the show can be seen at 9 and 9:30 a.m. on WNYA (ch. 4) and again at 11 and 11:30 a.m. on WNYT (ch. 13).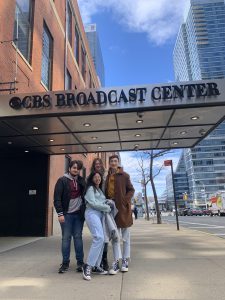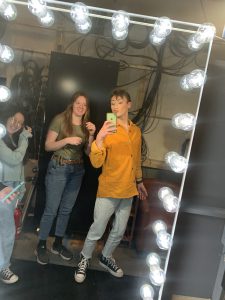 "I'm thrilled that our students were able to participate in such an amazing opportunity," Duanesburg Jr.-Sr. High School Principal Jodi Marvin said. "I'm certain the experience will help enhance their perspective, and challenge them to think big about their own future plans and potential career paths."
After sitting in as audience members, the students were given a personalized behind-the-scenes tour of the set, backstage and of the control room, by the show's Executive in Charge of Production, Chris McLoughlin. McLoughlin then spent time with the students in a more private setting, to tell them about the various positions available on a television production set and valuable career advice about networking, making your career aspirations known, making a good first impression, and taking advantage of every single opportunity that comes your way to learn about every single aspect of the career that you wish to pursue.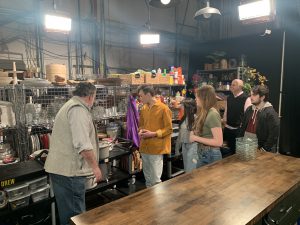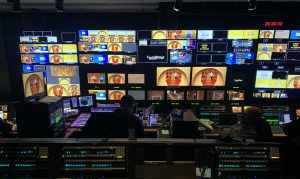 Next, students were treated to a private conversation with Lauren Lazaro Gulino, Drew Barrymore's makeup artist on the show. Gulino shared her impressive resume with the students, along with the story of how she started in the industry, and how her mentors helped her to achieve her goals. Gulino's career advice also stressed the importance of networking, having a good work ethic, being willing to try and learn everything, and being a dependable and trustworthy co-worker.
"This was a truly phenomenal experience for our students to have," Lohret said. "It was really exciting to have them experience a production on such a large scale, carried out by a team of professionals, using multiple cameras, with an enormous control room. The lessons learned from watching it all happen in a professional setting were invaluable and I know it will influence the work that this group of students does in the classroom," he added.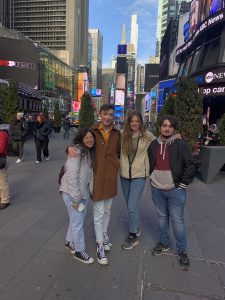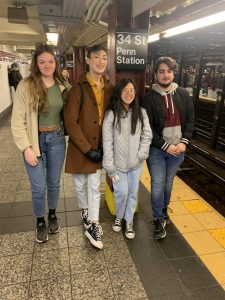 After wrapping up their time at the studio, the group walked to a spot on the upper west side for an authentic Korean lunch. The group then meandered through Times Square and Bryant Park, soaked in the beautiful architecture inside the New York Public Library's Stephen A. Schwarzman Building, and checked out a few stores, before making their way back to Penn Station to catch a late afternoon train back to Albany.