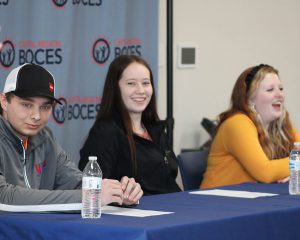 A trio of Capital Region BOCES students spoke Friday about the value of their education and learning the job-specific skills in front of nearly five dozen area business leaders.
Seniors Tyler Drexel of Duanesburg and Jocelyn Howe of Mohonasen and junior Savanna Traverse of Schoharie took part in a panel discussion on March 10 during a Leadership Capital Region event. Leadership Capital Region is an organization within the Capital Region Chamber and the event was hosted by Capital Region BOCES.
Drexel and Traverse, who are in the Construction/Heavy Equipment program, and Global Fashion student Howe spoke about the skills they have learned and how those skills will help them achieve their future goals.
"The people here, the opportunities they give you and the experiences you have together prepare you well for your future," Traverse said.
Speaking after the event, Drexel said "I learned just how many people out there support BOCES and want you to succeed."
"I think it's important that more people know just how much we learn and do here," he added.
Howe likewise appreciated the opportunity to 'spread the word' about what BOCES offers, as well as gain some new insight herself.
"It was a really good opportunity to be able so share how BOCES has helped so many, learn more about myself and the people on the panel, and make great connections," she said.
Capital Region BOCES Managing Program Coordinator-Business & Community Partnerships Nancy Liddle said the event helped to showcase student learning at Capital Region and the valuable role BOCES plays in developing the workforce of the region.
Sami Gowan, senior program manager with the Capital Region Chamber of Commerce, said the messages the student shared were refreshing.
"These students shared their passion for their field and how lucky they feel to do what they love every day. It was refreshing to hear more females are entering heavy machinery programs and feeling welcome there. The panel was wise beyond their years and any employer would be lucky to have them, their parents must be so proud," said Gowan.