A national, evidence-based, multi-tiered student-support and behavioral program that has been successful at the DCS elementary level is being reinvigorated and tailored for success at the Jr./Sr. High School this year.
Positive Behavioral Interventions and Supports – or PBIS – is a system that focuses on the social and emotional behavior of students with the intent of improving academic outcomes. In other words, it helps create more time for learning and less time correcting student behavior. 
A kick-off event held today, Oct. 8, included team-building exercises (right), community service activities, and it featured Powell Cucchiella, LMHC, a mental health counselor with HPA/LiveWell in Albany. He spoke to students in grades 6 through 12 on the importance of resilience and self-care – two important notions, especially in the pandemic. 
"Most people agree that their mental or emotional output on a given day has a lot to do with their performance that day, and on the tasks they want to do well on," Cucchiella said. "The unfortunate piece is that most people spend very little time training their mental and emotional states. We have no problem investing hours into the things we care about but struggle to give five minutes a day on the very thing underlying our performance on those tasks. The push is to have everyone train the mind like they train everything else they care about. A few minutes a day makes a big difference!"
PBIS is a framework for reinforcing positive behaviors, not a curriculum. For it to be successful, school staff, students and their families must be actively involved.
"We can't expect students to be successful in school if their mental health and their social and emotional well-being are compromised," said Jr./Sr. HS Special Education Teacher Danielle Schneible, who heads the PBIS Committee. "So we want to teach them the skills to be successful in the school community – to be successful learners."
And it starts with the adults. Teachers and staff are already modeling the behaviors they expect students to demonstrate, such as the acknowledgement of safe, responsible and respectful behaviors in the cafeteria, classrooms, offices, gym, restrooms, assemblies, hallways and libraries. Bus drivers also have received PBIS training and the faculty supports them in reinforcing positive bus-riding behaviors.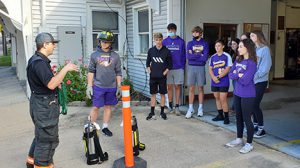 A structure for acknowledging positive behaviors exists in the Elementary School, and one is being developed by the PBIS Committee for the Jr./Sr. High School, Schneible said.
Additionally, students participated in community-building activities, and enjoyed games and a pep rally after lunch.