Fifty-three Duanesburg High School seniors on Wednesday were accepted for admission to SUNY Schenectady County Community College in a celebratory assembly attended by high school seniors, and college and district officials.
While Duanesburg has partnered with colleges on these types of Instant College Admit Day events, this is the first time all seniors will be admitted at a single event on the same day.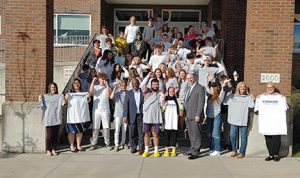 SUNY Schenectady President Dr. Steady Moono was happy to share the news that students have a great college option after they graduate.
"We are pleased to partner with the Duanesburg Central School District to offer an Instant Admit program to the entire senior class at Duanesburg Jr/Sr. High School so that they join the SUNY Schenectady family," Dr. Moono said. "Students at Duanesburg already participate in our College in the High School program, and through this new Instant Admit event, we are happy to provide more college access to students from Duanesburg and welcome them into our college community."
Duanesburg Superintendent Dr. James Niedermeier praised the work of the college and district staff as he congratulated students on their accomplishment.
"SUNY Schenectady is an incredible resource, offering customized opportunities for all people to learn, grow, and prosper. I would like to thank SUNY Schenectady and Dr. Moono for their partnership in serving our school community," Dr. Niedermeier said. "I'm really proud of [DCS seniors] for choosing to participate in this special opportunity."
During the morning assembly, college officials gave students instructions on completing the application process electronically. Afterwards they posed for photos wearing their new SUNY Schenectady T-shirts and were treated to cider donuts from Indian Ladder Farms.
Dianna Esa said her parents have always encouraged her to attend college after high school.
"It's a great opportunity to have this option, and I thank SUNY Schenectady for providing it," said Dianna, an aspiring attorney.
Students who attend next year will have a variety of unique academic options, including Hospitality & Tourism Management, Culinary Arts, Criminal Justice, Business Administration, Aviation, and English.
That's good news for senior Daniel Van Buren, who wants to be an English teacher. "I think it's a wonderful opportunity for all students – those who know what they want to do next year and those who don't know what path in life they will take," he said. "It's definitely helpful for me."