Dear DCS Community:

I hope all of you are enjoying the warm weather that we are having! The end of the school year is a time to celebrate, as you can see in many of the items below. Thankfully, we will be able to celebrate in much more traditional ways this year. I can't wait!
Best,



Jim Niedermeier, Ed.D.
Superintendent
2022-23 School Budget

The proposed school budget for the 2022-23 school year is $18,600,000, which represents a 4.00% ($715,000) year-to-year spending increase. The proposed budget calls for a tax levy increase of 1.80%, or $150,945, which is under the tax levy limit or "cap" of 2.62%.  There are no proposed programmatic cuts in this budget and there is one additional elementary position proposed. There is also a proposition to purchase two full-sized school buses and one small school bus to replace vehicles as part of our 10-year replacement cycle. You will also be able to vote to fill two Board of Education seats (candidate information can be found here). The budget vote is from 1-9 PM on May 17, 2022 in the Elementary School lobby. You can find information on the school budget here.  I have also made a 7 minute synopsis video that you can view here.
Budget Q&A

Asst. Superintendent for Management Services Jeff Rivenburg and I have answered many questions from the community during the budget cycle this year.  Below, please find two of the most common. If you have any other questions related to the budget, please feel free to reach out to me prior to May 17th.
Q: Why is the school district proposing an increase to the tax levy at a time when inflation is impacting everyone so heavily? 
A: While we know that everyone is suffering at the pump, the grocery store, and everywhere else, DCS is not exempt from the pain caused by inflation. We also must continue to pay for our contractual obligations.  In this budget, we are proposing the use of fund balance and reserves so that we do not pass the entire increase we are expecting on to the community.
Q: Didn't the district receive federal relief funding? Can't it use that instead of raising taxes? 
A: While we have used federal money to pay for things aimed at meeting our needs (especially things that address the social, emotional, and academic impact of the pandemic), it is important to note that these funds are restricted to specific purposes and are one-time funds. If we use these funds to pay for things with reoccurring costs, we run the risk of creating large holes in our budget that will difficult to fill when this money runs out.  
Employment Opportunities

The district has several full and part time employment opportunities available that may be right for you. Working for the school district not only allows you competitive pay and benefits, it also gives you a chance to give back to the community by supporting our students. You can find out more about these employment opportunities here.
Valedictorian and Salutatorian

Congratulations to Jessica Rose Archambeault and Bailey Grenier for being named our 2022 Valedictorian and Salutatorian, respectively. You can read more about these two impressive students here.
Capital Projects
Air Purifiers
Schenectady County has provided our district with portable air filters for classrooms. These filters, which were no cost to the district, will not only assist with reducing COVID rates, but also with the spread of other airborne illnesses.
Howe's Cavern Field Trip
Field Trips are again in full swing at DCS this year. 6th and 7th graders recently visited Howe's Cavern, our nearby geological marvel.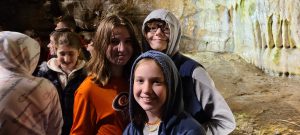 Retirements

Congratulations to Lori Kuhl, who will retire at the end of the school year. Mrs. Kuhl has been the Jr/Sr High School Secretary for 26 years and will be sorely missed. She will join Karen Kanarkiewicz (Secondary Social Studies) and Mary Neitzel (CSE Chair), who had previously announced their retirements.
Tenures

Congratulations to the following teachers for earning tenure. This important milestone in a teacher's career signifies that the teacher has demonstrated mastery of teaching standards and is worthy of our school community's deepest trust.
Isabel Kailin, Spanish
Kendra Shedina, English 7-12
Danielle Schneible, Special Education
Catherine Wilson, PE
Spotlight Artist: Harlee Manus

8th grader Harlee Manus is a meticulous and thoughtful artist. She is pictured below with her deer octopus alebrije.