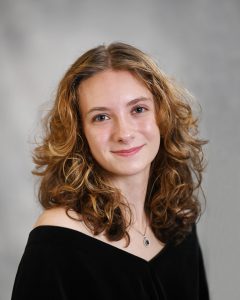 Jessica Rose Archambeault has been named valedictorian for the class of 2022 at Duanesburg Central School. Next year, Archambeault plans to attend SUNY Binghamton where she will major in biomedical engineering, with an additional pre-med track. She aspires to attend medical school and work for a local hospital or organization as a residential dermatologist. She is the daughter of Kelly and David Archambeault.
Archambeault singled out DCS's advanced placement courses as the one thing that best helped her prepare her for college. "They were a great way to test my capabilities as a student, as well as ready myself for the workload college can bring," she said. "You get to meet and work with a lot of great teachers that are always ready to help you when needed." She highlighted AP literature teacher Rebecca Pless and AP biology teacher Ben Jenkins as being particularly impactful throughout her high school career. "I couldn't be more grateful to them and the opportunities they have given me throughout senior year and my time at DCS."
Archambeault also credited DCS for the district's emphasis on STEM-related programs and elevated class offerings that provide students with more challenging academic options. "Mrs. McKane's fifth grade after-school math program truly started my love towards education," she said. "I'm really grateful for my teachers, especially the ones who suggested me for programs outside of school that they believed would benefit my future studies and career path."
In addition to focusing on academics, Archambeault was very active in extracurricular activities and athletics during her time at DCS. She was a three-sport athlete and served as the captain for the cross country, soccer, and track & field teams. She was a Section 2 cross country state qualifier, and track and field sectionals qualifier and medalist. She was an NYSPHSAA Scholar Athlete in all three sports. 
She was inducted into the National Honor Society, received the Society of Women Engineers Certificate of Merit and was recognized by the Daughters of the American Revolution. 
Archambeault is involved in several community projects outside of school, including Wreaths Across America at Saratoga National Cemetery and as a volunteer camp counselor for Stratton Air National Guard Base. She also stays active by tutoring, babysitting and pet sitting and enjoys visual arts and crafts.
Archambeault's message to younger DCS students is an important reminder to incorporate balance into everything you do. "Focus on your studies, but don't disregard your social life," she said. "Getting involved with your community and friends benefits you in various ways in the long run. Don't miss making these memories while you still have the chance to."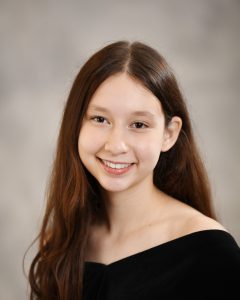 Bailey Grenier has been named salutatorian for Duanesburg's graduating class of 2022. She plans to study business at Northeastern University in Boston, MA starting this fall, with the goal of earning an MBA with a concentration in finance and one day becoming an entrepreneur with a business of her very own. She is the daughter of Sharlene and Matthew Grenier.
Grenier highlighted student government and mock trial as two experiences during her time at DCS that she benefited most from. "Mock trial opened me up to a world of new perspectives and tested me intellectually. It showed me how to be confident in myself and my abilities," she said.
As a previous class president, Grenier said she enjoyed "taking a hands-on role in fundraising" and being involved with the future successes of her class. "It taught me how to be a liaison between my peers and our class advisors," she added.
She credited her school counselor Kelly Houghtaling with providing her with a multitude of opportunities outside of academics that helped strengthen both her confidence and her leadership skills, and helped prepare her for the college admissions process and for life post-graduation. "Ms. Houghtaling guided me through these past few years and gave me advice that I continue to follow now as I near the end of my high school career," Grenier said.
In addition to being inducted into the National Honor Society, Grenier has earned several awards in recognition of her academic excellence and writing skills, including the AP Scholar Award, Saint Michael's College Book Award, and the HOBY Youth Leadership Essay Based Scholarship. She also won the Albany Teen Winter Writing Contest in 2018 and placed third in a 2019 writing contest hosted by the Daily Gazette.
Her advice to younger students at DCS is to remember "it's important to have a balance between your academic and personal life" and to "always remember to take time for yourself to do the things you love."
Outside of school, Grenier enjoyed participating in dance classes at Baker's School of Dance and horseback riding at Dutch Manor. She also volunteered on the Beautification Committee for the village of Delanson, participated in 4-H, and worked at Bark and Bubble Pet Salon.