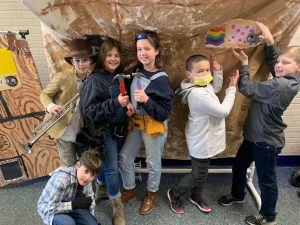 Congratulations to DCS' Odyssey of the Mind teams on their performances in the recent regional tournament. Our Division 1 and 2 teams both placed second, which means they get to move on to compete in the NY state tournament on March 26 at the NY State Fairgrounds in Syracuse!
Our Primary team at DCS consists of students in K-2 and is coached by kindergarten teacher and DCS' district coordinator, Deborah Johnson. Primary teams present at OOTM competitions, but they do not compete. 
Duanesburg's three OOTM teams are:
Primary team, grades K-2 (coached by Deborah Johnson) – Gabriella Macherone, Spencer Utstein, Emma Wright, Elaina Denny, Madeline Krepcio, Grace Geidel, Natalie Maura

Division 1 team, grades 3-5

(coached by Nicole O'Connor & Amalia Pineiro) – Kendra Maurer, Addison Parslow, Mikayla Rivenburg, Fletcher Mormando, Emmett O'Connor, Noah Utstein, Jimmy Yauchler

Division 2 team, grades 4-6

(coached by Francis and Samantha Spor) – Lucy Spor, Nolan O'Connor, Nathan Geidel, Julia Lowry, Henry Spor, Christian DeLeon
Congratulations to all of our OOTM participants and coaches, and best of luck to our Division 1 & 2 teams in the NY state tournament at the end of this month.