Lady Eagles play regional game against Northern Adirondack on Sunday, March 13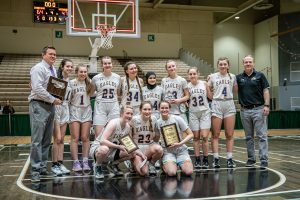 Duanesburg's girls varsity basketball team with coach Chris Herron, made history this year when they brought home DCS' first ever girls basketball Class C sectional title with a 64-47 defeat over Greenwich.
The Lady Eagles will now represent Section 2 in the NYSPHSAA class C girls basketball state tournament. As the #2 seed for the tournament, they received a bye in the first sub-regional round and are now set to face Northern Adirondack (Section 7) in the regional round at 4:15 p.m. on Sunday, March 13 at Hudson Valley Community College (HVCC).
With a win this Sunday, they will advance to the "Final Four" and compete in the state semi-final game, which will take place at 10:45 a.m. on Saturday, March 19, at HVCC. The class C final to determine this year's state champion will be at 10:00 a.m. on Sunday, March 20 and will also be held at HVCC.
BUY TICKETS: Tickets must be purchased online in advance or by QR code on-site at HVCC. There are no cash purchases. Tickets are $8 for ages 12 and over.
WATCH THE GAMES ONLINE: To livestream the Lady Eagles' regional game this Sunday (as well as semi-finals and finals), you must have a subscription to the NFHS Network. The monthly streaming pass costs $10.99 per month. You can cancel your subscription at any time, but you are automatically billed each month, until you cancel.
COMMUNITY SEND-OFF: Members of the Duanesburg community have coordinated a send-off for the team on Sunday, March 13. Anyone wishing to participate has been asked to arrive at the high school by 2 p.m. on Sunday, or line the sides of Route 395 heading towards Route 20 with directions to "honk, clap and cheer for the girls as they board the bus and make their way to the game."