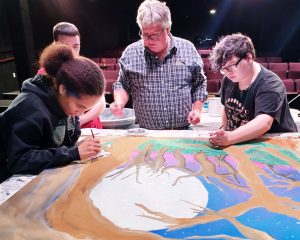 Niya Schroeder is a senior at DCS and a second-year student in BOCES' Entertainment Technology program, where students have the opportunity to learn about the fields of theater and film production on-site at the historic Proctors Theatre in Schenectady. Students in the program study art and design interpretation, scenery construction and painting techniques, sound and recording, stage electrics and lighting, costuming, and makeup. Students meet daily in the Addy Theatre, the Media Lab, rehearsal spaces and even the main Proctors theater and work on productions or learn from the crews that are working on those shows.
Schroeder and her fellow classmates in the Entertainment Tech program were able to gain real-life experience on a recent holiday-themed theatrical production at Proctors — the Classic Theatre Guild's production of Twas the Land of the Night Before, which ran from Dec. 9-18 in the Addy Theater at Proctors.
She and the other students in the program helped to design and prepare backdrops, along with other technical aspects of the show. Senior Bryan Reed from Scotia-Glenville High School served as stage manager and Michael Egan from Colonie Central High School was the lightboard operator for the production.
"We're all very proud of the work and participation that the students have been putting in the last few weeks," said Teacher Jeff Knorr. "They've been working on their own projects, participating with show productions and observing professional productions as part of their work-based learning experience."
Schroeder plans to attend Schenectady County Community College next year and is interested in obtaining a degree in theater arts. She would someday love to pursue a career in acting.