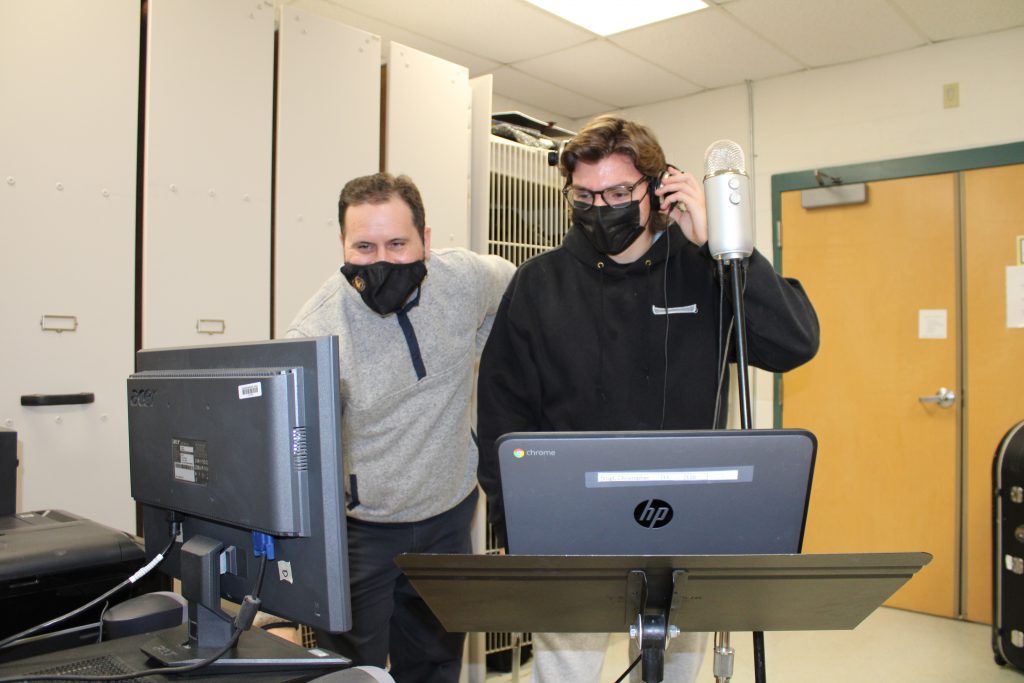 Chorus divided by health and safety measures, united by recording software to produce audio track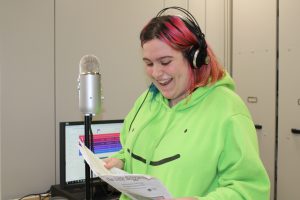 Music education hasn't skipped a beat at DCS, even in a time of virtual learning and strict health and safety measures. The faculty are trailblazing unique teaching methods and using technology tools to help students create music in a new way.
Students in teacher Scott Hopkins' grade 9-12 choir recently produced a multitrack audio recording. It brought students' voices together even though they recorded their parts individually. 
It was a delicate balancing act with a lot of moving parts, especially since the students don't attend school the same days under the hybrid learning plan. Students are participating in small group, socially-distanced vocal lessons and learning how to use advanced recording software. Their work has come together in the successful production of a choral selection titled "Bidi Bom."  
The singers are students Jordan Adkins, Eowyn Boggs, Adriana Edmonds, Nicole Forbes, Evie Kosier, Vanz Llamasares, Jade Menzies, Chris Vogt and Corinne Wright.
The two-minute production is the result of months of hard work as production plans shifted more than once to overcome obstacles. The original intent was to have students record their tracks at home. But technology issues surfaced along the way, ranging from blips in at-home internet connectivity to hardware limitations.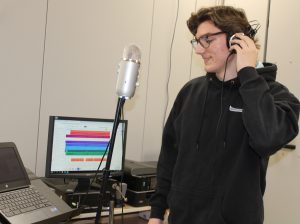 Hopkins ultimately set up recording stations at school so he could help engineer the recording and the students could focus on singing. Each student sang by themselves and recorded multiple takes. Hopkins used the best parts of each to create a multi-track recording. 
"It's a lot of critical listening, cutting, copying, moving and pasting, but the end result is the best performance by each student," Hopkins said. 
The students were surprised and thrilled when it all came together. 
"I felt almost relieved because this was the first time I had ever done something like this," student Christopher Vogt said. "Mr. Hopkins did a fantastic job at leading us on this piece to make that final cut sound as good as it does."
"Hearing everything come together was a surreal experience," student Jordan Adkins said. This is her first year at DCS. "It was weird hearing everyone singing for the first time, especially since I had not met many of the singers in person."
Vogt said the experience gave him a glimpse of the real-world music production career field.
"The way we perform now is certainly not preferable to the past years, but it gives us a more accurate view into the production of professional recording, which is very cool," Vogt said. "I have a newfound respect for the producers of professional artists, since this experience gave me an idea of what they do to get the best possible cut of a song."
Hopkins said he couldn't be prouder of his students. 
"Not only did I expect them to be solid musicians and vocalists, like in typical choral settings, but I also asked them to become recording engineers and recording artists," Hopkins said. "They came through, and the results are great!"