Today, the district hosted a signing ceremony for two amazing senior athletes who have made the commitment to play a sport at the collegiate level after graduating from DCS this year — Emma Lindecke and Madison Meyer.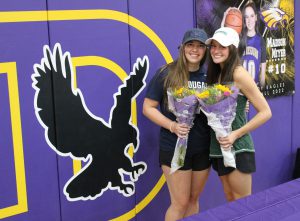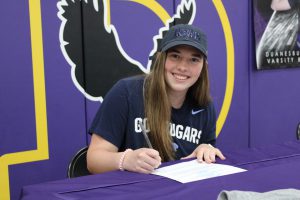 Emma Lindecke will attend Kean University in Union, NJ next year where she will be a member of the university's women's DIII swimming team. She plans to major in criminal justice with the possibility of a double major with psychology.
Emma has been a captain of the Duanesburg/Berne-Knox-Westerlo girls varsity swim team for the past three years. She was a key figure in helping the team win the school's first swimming sectional championship this past fall. Duanesburg/BKW finished the tournament with 343 points, ahead of much larger teams like Mohonasen/Schalmont (309 points) and Queensbury (298 points). Lindecke was also part of the winning 400 freestyle relay team and came in second in the girls 200 IM at sectionals. At Kean, Lindecke says she plans to compete in the 100 breaststroke and 200 IM, and swimming the breaststroke for relay teams.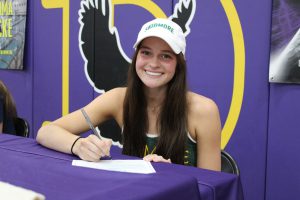 Madison Meyer will continue her academic and athletic career at Skidmore College in Saratoga Springs, NY where she will be a member of the women's DIII basketball team. She plans to study Education, with the goal of someday becoming a teacher.
Madison has been a member of the girls varsity team at DCS since she was in eighth grade and was captain for three years. She reached the 1,000 point mark as a sophomore. This year, Meyer became the all-time-leading scorer for girls basketball at Duanesburg, ending her career at DCS with 1,572 points as a varsity player. The 2021-22 girls basketball season was one for the history books. The team went undefeated in the WAC and won the team's first WAC title since 2012; won the school's first basketball sectional title; was crowned regional champion; and made it to the final four of the class C state tournament. This year, Meyer was named MVP for the WAC and MVP for Section 2, Class C.
Girls swimming coach Walter Armstrong and girls basketball head coach Chris Herron addressed the crowd at the signing ceremony, which included friends, family, DCS staff, teachers and administrators.