Gwiazdowski and Sanchez elected to Board of Education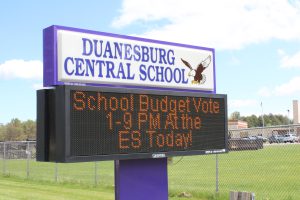 Duanesburg voters approved the district's proposed $18,600,000 budget for the 2022-23 school year by a vote of 547-361, a margin of 60%. The budget reflects a 4.0% ($715,000) increase in spending and a property tax levy increase of 1.8% ($150,945), which is under the district's tax levy limit or "cap" of 2.62%. A simple majority (more than 50%) was required to pass the budget. 
"Thank you to the DCS community for their unwavering support of our schools, especially in a time of such economic hardship," Superintendent of Schools Dr. James Niedermeier said. "We look forward to a return to normalcy next year using the resources that will be provided to our students with this evening's approval of the district's spending plan."
The 2022-23 budget supports district-wide growth in academic programs, extracurricular offerings, technological advancements in the classroom and a continuation of the district's 1:1 initiative that provides a Chromebook to every K-12 student. It also includes the hiring of one K-6 teacher to address a student enrollment spike in one of the grade levels at the elementary school.
Voters elected Sarah Gwiazdowski (498 votes) and Avis Sanchez (442 votes) to serve three-year terms on the Board of Education, replacing Deborah F. Grier and Dianne Grant, whose terms expire on June 30, 2022. Gwiazdowski and Sanchez will start their three-year terms on July 1 of this year.
Also on the ballot, voters approved a proposition allowing the district to purchase two 65-passenger buses and one 30-passenger bus at a cost not to exceed $315,000. The referendum passed by a vote of 577-329. The purchase will allow the district to replace aging buses that have high maintenance needs and maintain a safe fleet of buses for pupil transportation.