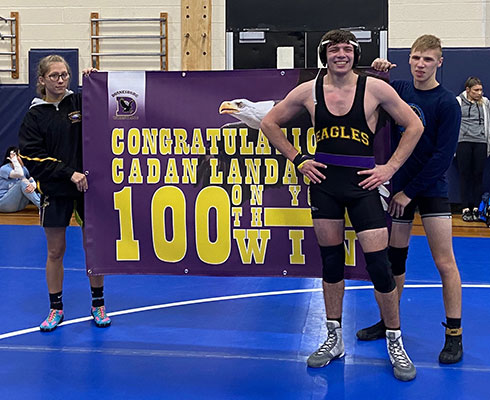 Eagle wrestling is going strong! Jan. 18-19, the varsity team placed third at the Ichabod Crane Duals. Congratulations to senior captain Cadan Landauer on winning his 100th career match and going 8-0 on the weekend.
Team member and Schoharie senior Austin Lints broke his school's wins record of 167 by going 7-1.
January 23 was Senior Night at DCS wrestling. The Eagles hit the home mats and defeated Fonda 56-21 to win their 17th WAC Championship in the last 20 years.
The weekend of Jan. 25-26 was a tough one for DCS, with wrestlers out due to illness or injury. Despite the challenges, the team finished 4th in the multiple team duals, defeating Scotia-Glenville and Ravena. Next meet is at Tamarac Thursday, Jan. 30.