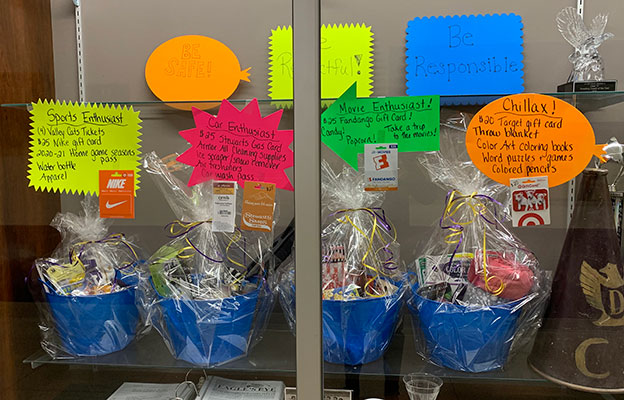 Drawings and contests are fun, and when help make a school a more enjoyable and positive place to learn, everyone who participates is a winner.
At Duanesburg Jr./Sr. High School, students in grades 7-12 are earning chances to win prize baskets by demonstrating behaviors that are Responsible, Respectful and Safe, foundations of the school's Positive Behavioral Interventions and Supports (PBIS) program.
The baskets, which are displayed in the high school's trophy case opposite the main office, include a:
Movie Enthusiast basket with a $25 Fandango gift card, candy, popcorn and a trip to the movies
Chillax basket with a $20 Target gift card, throw blanket, color art coloring books, colored pencils and word puzzles and games
Sports Enthusiast basket with four Valley Cats tickets, a $25 Nike gift card,  water bottle, apparel and home game season pass
Car Enthusiast basket with a $25 Stewart's gas card, Armor All cleaning supplies, ice scraper/snow remover, air fresheners and a Hoffman's Car Wash pass 
Teachers and staff members present students with Eagle Bucks that they can enter into the basket drawing when they witness a student who:
always arrives at class on time, prepared and ready to learn
took time to help another student in need
demonstrated patience
saw that another student was confused in class, took the initiative to sit with them and walked them through the class activity
high fived a student they don't normally hang out with because that student answered a question correctly
was a self-advocate who sought help when they needed it
proactively sought out teachers for notes and assignments ahead of a planned absence from class
encouraged a peer to make a positive choice
showed compassion and understanding
demonstrated acceptance of others
used appropriate language and tone
respected another student's space and boundaries
picked up after themselves and others
encouraged a peer to be safe
Students place their Eagle Bucks in canisters in the main high school office for the gift baskets they would like to win. The more Eagle Bucks they earn and enter, the greater their chances of winning. The drawing will be held on Friday, March 6.
PBIS is a research-based approach involving the active participation of all school staff, students and their families, that helps schools reduce behavioral problems and maintain a safer learning environment where teachers can teach and students can learn.
PBIS teams in the high school and elementary school work toward the goal of having all staff teach, model, support and reward positive and appropriate behavior. The teams emphasize PBIS' use in classroom management and in providing supports for students needing more assistance.