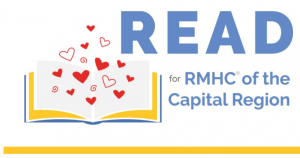 All this month, DES students have been working hard to raise funds to support the work of the Ronald McDonald House Charities of the Capital Region, by reading as many books as they can! Students are seeking donations and sponsors through the Read for Ronald McDonald House initiative.
Participants ask family and friends to sponsor the time they will spend reading. Pledges can be made for a certain amount of money per minute the student reads this month, or for a flat donation. Students need to turn in their forms and donations no later than Monday, April 3.
Last year, Duanesburg Elementary School students raised $1,000 for the cause. DES coordinators for the initiative, Erin Goodwin (third grade teacher) and Danielle Surnear (fifth grade teacher), also serve as the advisors for the building's Community Service Club. They have promised the student body that if they raise MORE than they did last year, they would each take a "pie to the face!" 
As of March 23rd, the current total of online donations is $635. Keep on reading and pledging! 
At last month's PBIS assembly, six students were recognized for their participation in last year's Read for Ronald McDonald House initiative, including (pictured below):  Elizabeth Mulhern, Nicholas Mulhern, Chase Askew, Mikayla Rivenburg, Quincy Zusman, and Silas Zusman.