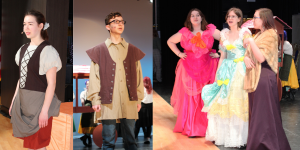 Over 80 DCS students in grades 6-12 are involved with this weekend's DCS Drama Club production of Roders and Hammerstein's Cinderella (the Enchanted Edition), with 7 p.m. performances on both Friday, March 24 and Saturday, March 25, and a 2 p.m. performance on Sunday, March 26. 
General admission tickets can be purchased online in advance:  https://bit.ly/DCS_CinderellaTix
Tickets will also be available for purchase at the door. Adult tickets are $12. Student tickets are $8. Performances will take place in Joe Bena Hall at the Duanesburg Jr.-Sr. High School.
The show is co-directed by Lindsay Heck and Scott Hopkins, who are both music teachers at Duanesburg Jr.-Sr. High School.
New this year, the show will feature a full-size pit orchestra, composed of DCS students and faculty members, which will be conducted by Hopkins. Prior to the show, a short movie will be played that features cast photos, commercials and messages to cast members, which was produced and edited by students in the district's high school Digital Media Production class. The drama club is also showcasing new microphones and an improved sound system, along with new mid-stage curtains that allow for more versatility for the actors on stage.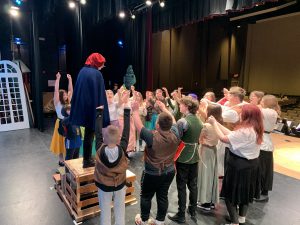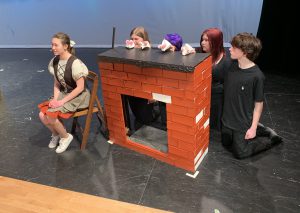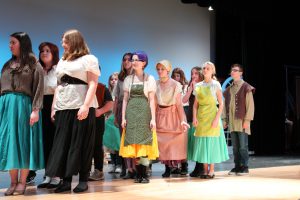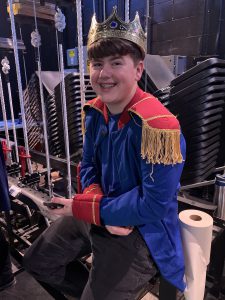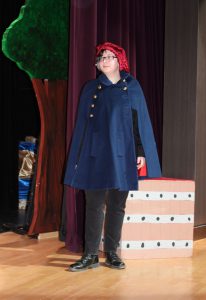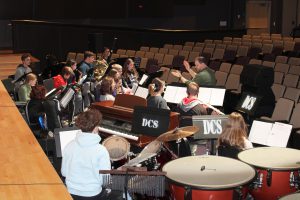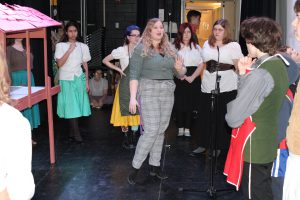 ---
Co-Directors:
Lindsay Heck and Scott Hopkins
Conductor:
Scott Hopkins
Cast:
Cinderella – Lorelei Benson
Fairy Godmother – Virginia Tower
Prince Christopher – Asa Pagano
Stepmother – Jade Menzies
Grace – Christiona Fourman
Joy – Lauren Capron
Queen Costantina – Eowyn Boggs
King Maximillian – Santino Bailey
Lionel – Ava Pagano
Mice/Horses – Izzy Acevedo, Cadence Weaver, Grace Weaver, Connor Zyniecki
Ensemble (soloists) – Izzy Acevedo, Olivia Campbell, Mallorie Howe, Lilly Kline, Samantha Noviczski, Lily Pennock, Lucy Spor, Cadence Weaver, Connor Zyniecki
Ensemble – Michael Bailey, Anna Burns, Paige Deffer, Guillian DePiero, Callie Lennon, Lucy MacTiernan, Noah MacTiernan, Charlie McClure, Kellan Tracy, Grace Weaver
Orchestra:
Flute 1 – Maddy Engel
Flute 2 – Wyatt Moss, Jennifer Patino, Kelly Rosenzweig, Julia Lowry
Clarinet 1 – Breeanna Moss, Zoe DeAngelis
Clarinet 2 – Ryan Koenitzer, Mikaela McGovern
Oboe & English Horn (Soprano & Alto Sax) – Heather Black
Bassoon – Preston Voelker
Trumpet 1 – Burke Herrick 
Trumpet 2 – Matthew Newvine
French Horn 1 – Keegan Brooks
French Horn 2 (Alto Sax) – Morgan Malpezzi
French Horn 3 (Alto Sax) – Logan Kapusta
Trombone – Jared Slingerland, Noah McMaster
Violin 1 – Rachel Devernoe
Violin 2 – Brooke Vincent
Violin 3 – Corinne Pelkie
Cello – Jan Herrick, John Meltz
Bass – Grace DeAngelis
Keyboard 1 – Mary-Clare Waltz
Keyboard 2 – Guenevere Evans
Percussion – Jecen Zdanowicz, Allison Hopkins
Crew:
Stage Manager – Gianna Bittner
Stage Crew – Kieran Loftfield, Elias Cadiz, Derrick Himes, Zachary Hoffman, Sean Kottl, Zack Largeteau, Alex Lewandowski
Props Manager – Jessie Rapp
Technical Crew:
Sound Design – Scott Hopkins, Vic Silva
Sound Crew – Gaby Patino, Noah Peterson, Nathan Geidel, Nolan O'Connor, Bryce Mensing, Rachel Devernoe
Lighting Design – Vic Sliva
Lighting Crew – Vic Silva, Noah Peterson, Carter Hopkins, Bridgett O'Donnell
Production Team:
Choreographer – Lindsay Heck, Jean Tower
Set Design – Kevin DiTondo, Lindsay Heck, Scott Hopkins
Set Construction and Painting – Kevin DiTondo, Gianna Bittner, Jessie Rapp, Keiran Loftfield
Costume Design – Lindsay Heck
Costume Managers – Lindsay Heck, Jade Menzies
Makeup – Andrew Longo, Heather Black, Allison Hopkins
Photographers – PJ Weston, Grace Hemstreet, Emilia Nowak, Abigail Campbell
Advertisement & Donation Sales – Scott Hopkins, Dawn Johnson, Casey Rosensweig, Karen Benson
Commercial Production – Chris Lohret, Andrew Longo, Anthony Cervera, Hannah Borski, Jennifer Patino, Lillian Kline
Tickets – Lindsay Heck, Samantha Spor
Posters – Melanie Capron, Ava Pagano