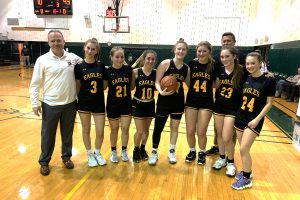 DCS junior Allison O'Hanlon became the district's all time leading scorer with the team's recent win against Middleburgh! Allison needed just 22 points to break Madison Meyer's 2022 record of 1,572 points – but she ended up scoring 30 that night.
Allison was recognized last Friday (January 20) at the team's home game against Notre Dame Bishop Gibbons. She was presented with a plaque and a commemorative basketball marking the milestone accomplishment. She was joined at mid-court by her parents, Patrick and Kathi O'Hanlon, as well as her twin sister and teammate, Kate O'Hanlon.
Allison has verbally committed to Siena College, where she will continue her academic and athletic career as a member of the women's division I basketball team.
Congratulations, Allison!