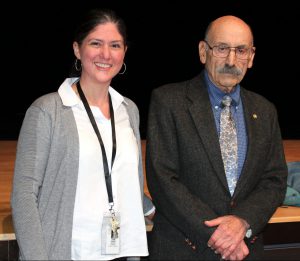 Duanesburg's Student Support Counselor, Dana Kamer, recently arranged for Holocaust survivor Ivan Vamos to speak at an assembly for students in grades 6-12 in recognition of International Holocaust Remembrance Day, which is celebrated worldwide each year in January.
"Many of my friends and family lost relatives in the Holocaust, so it becomes very personal for me whenever I see and hear a survivor tell their story," Mrs. Kamer said. "It is important for others to understand what happened not so long ago, and realize that we all have a responsibility to not stay silent when we see discrimination based on racial prejudice."
Mr. Ivan Vamos was born in 1938 in Budapest, Hungary. During that time, all of Europe was experiencing extreme turmoil and unrest, with German troops ramping up their efforts to show dominance throughout Europe and in the process, carrying out atrocious acts against Jews and other marginalized groups. 
During his visit to DCS, Mr. Vamos shared emotional stories with staff and students about what his childhood was like at that time in Hungary. He simply described it as "a terrible time." 
Both his father and grandfather served in the Hungarian Army, which had been infiltrated and strongly influenced by German forces. His father was treated horribly and used as what Mr. Vamos described as "slave labor." This horrible treatment eventually led to his death. Mr. Vamos' grandfather was a major in the Hungarian Army, and had been left to die after being badly beaten – but miraculously, he survived.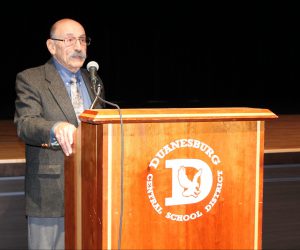 Together, Ivan and his mother had to show tremendous courage, strength and creativity, as they moved throughout Hungary together, trying to avoid capture — which would have most certainly led to their deaths.
As a professional photographer, Ivan's mother fabricated ID's for them in order to move more freely throughout the country in search of safety — sometimes in the Hungarian countryside, and sometimes in the capital of Budapest. An unfortunate diagnosis of the measles for Ivan, ultimately ended up saving both of their lives, as they both had to move locations out of a bomb shelter and into isolation away from others.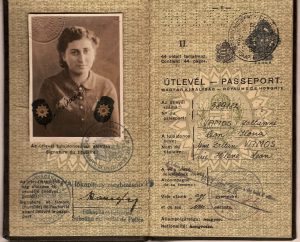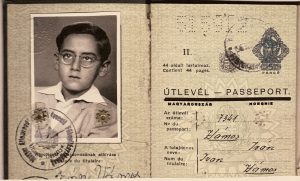 Ivan also told the story of being separated from his mother as they were being marched to the Danube River shoreline. A dramatic reunion came about after his mom pleaded with a soldier to allow her to bring a sweater to her son. Once she reached her son, she decided to make a run for it. Again, they escaped death. 
When living in a bombed-out apartment house in Budapest, Mr. Vamos recounted having to negotiate for food and having to forage mushrooms and berries with an older woman they were living with. At one point, they literally only had freeze dried split peas to eat. Over the next couple of months, they had to find different ways to prepare and eat the peas, which he described as a very unpleasant experience.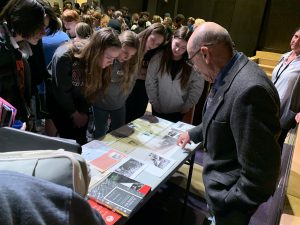 Mr. Vamos told students that in 1946, his mother married a Czechloslovakian man whose entire family had been "wiped out." Her paperwork now showed her as being a Czech instead of a Hungarian, which enabled her to immigrate to the United States. Since Ivan's paperwork still showed him as being Hungarian, he was not allowed to join his mother.  He would have to wait an entire year before he could join her. 
Mr. Vamos was finally able to immigrate to the United States in 1947 – at the age of 10 – and was able to reunite with family members in Brooklyn. He described his childhood in Brooklyn as being quite pleasant, and said that his classmates and teachers were very welcoming to him and other immigrants. Mr. Vamos explained that he had no other choice but to learn the English language very quickly.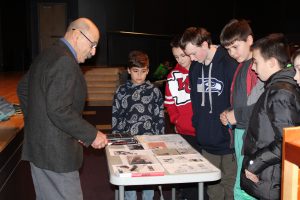 Mr. Vamos told students that in all, seven members of his immediate family were killed during the Holocaust, including his father and grandmother. Over 6 million Jews were killed during the Holocaust — including about 600,000 Jews from Hungary. 
As an adult, Mr. Vamos served in the U.S. military and eventually had a very successful career in public service as the Deputy Commissioner for Planning and Development at the New York State Office of Parks, Recreation, and Historic Preservation. 
Mr. Vamos is an outstanding artist and has created several different drawings to help tell his story of survival and perseverance.