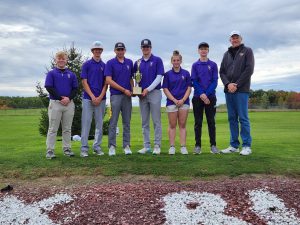 Congratulations to the Duanesburg boys varsity golf team and coach Dave Schalekamp on earning the title of Western Athletic Conference League champions for the second year in a row! This marks the third time in four years that the DCS golf team has won the WAC championship. This year's tournament was played at Fox Run Golf Course in Johnstown on Tuesday, October 4.
This season, the team had an overall regular season record of 12-1 and was led by seniors Tyler Drexel and Shane Wetherington. In addition to the WAC team title, Wetherington was voted as the division's MVP. Tyler Drexel, Grant Raymond (junior), and Collin Lussier (8th grade) were chosen as 1st Team All-Stars, and Porter Losito (sophomore) was chosen as a 2nd Team All-Star.
On October 3, Chloe Galvin (sophomore) became the first girl from Duanesburg High School to compete in a Section II Girls' Sectional Tournament. Congratulations to Chloe, who was chosen as the division's MVP!
Next up …. On Tuesday October 11, Shane, Tyler, Grant, and Collin will compete in the Class C/D Boys Section II Championship at Fairways of Halfmoon.