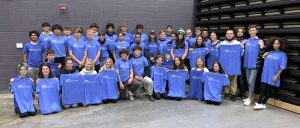 All 53 members of Duanesburg's Class of 2023 now have the opportunity to become a SUNY Schenectady Royal next year, after this morning's "Instant Admit" ceremony held at the Duanesburg Jr.-Sr. High School.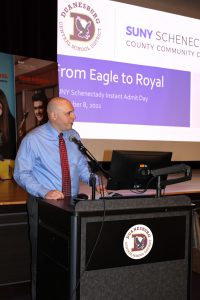 Superintendent of Schools Dr. Jim Niedermeier opened the ceremony by listing successful actors, athletes and chefs who all attended community colleges, including Tom Hanks, Steve Jobs, Guy Fieri and even Buffalo Bills quarterback, Josh Allen. "This diverse list demonstrates just how many needs community colleges can fill," Niedermeier said. 
"SUNY Schenectady and the network of SUNY community colleges in New York are an incredible resource, and it often seems that we take things in our own backyard for granted," he said. "These institutions offer customized opportunities for all people to learn, grow, and prosper."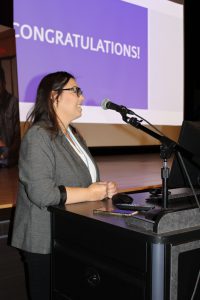 SCCC's Director of Admissions, Laura Sprague, congratulated Duanesburg seniors on completing the first step in their SCCC journey and introduced them to the academic programs available at the community college, including Transfer Degree Programs like aviation science, criminal justice, and programming for game design; Career Programs like craft beer brewing/craft spirit distillation, culinary arts, early childhood, and music audio technology; Certificate Programs such as mobile food service, digital music and beat production, and chemical dependency counseling; and Microcredentials in areas like fundamentals of baking and confections, child development, and behavioral health.
Sprague also took a moment to recognize November 8 as National First-Generation Day, a day to celebrate and honor students who are the first in their family to attend college. SCCC representatives brought t-shirts for every student and treated the students to apple cider and cider donuts.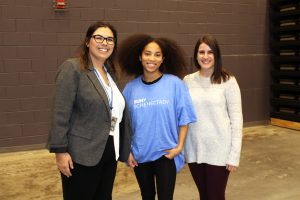 One Duanesburg senior who has already decided that she would like to attend SUNY Schenectady, is Niya Schroeder. Schroeder is a second-year student in BOCES' Entertainment Technology program, where students have the opportunity to learn about the fields of theater and film production on-site at the historic Proctors Theatre in Schenectady. Students in the program study art and design interpretation, scenery construction and painting techniques, sound and recording, stage electrics and lighting, costuming, and makeup.
Schroeder said she is interested in obtaining a degree in theater arts and would someday love to pursue a career in acting. When asked why she was drawn to Schenectady, Schroeder said she liked the fact that it was close to home, and that it seemed like an economically smart option of where to start her collegiate career.