Duanesburg students and staff truly embody the DCS theme of Small schools, Big impact. Here are just a few ways they shared their spirit for the good of their community this holiday season.
Providing for a family in need
National Honor Society students donated $220 and purchased pots and pans, a hoodie, a blender, silverware and a set of sheets to help a family in need this holiday season.  DCS staff joined in the effort by donating cash and purchasing needed items.
185 Toys For Tots
 
The holidays were brighter and more fun for area children thanks to the 2019 DCS Toys For Tots campaign. Students, staff and community members donated new toys, bought fundraising Tot Tickets and donated cash to fund a collection of  185 toys. On Dec. 11, alone, the Leo Club collected $460 and numerous toys for Toys for Tots at the boys basketball games at DCS. Coordinating the 2019 campaign were Toys For Tots elves Lori Galea at the elementary school, Lori Kuhl at the high school and Karen Weiler at the bus garage.
Holiday cards for nursing home residents
Our students remembered those who might appreciate some extra cheer during the holiday season. Elementary students created, packaged and, in conjunction with the girls basketball teams and coaches Chris Herron and Kristina Graziadei, delivered homemade holiday cards to area nursing homes.
Helping animals and families of ill children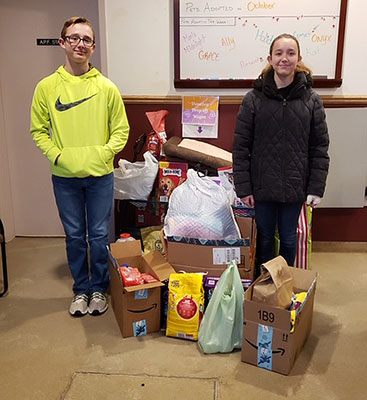 The high school Student Council established a Giving Tree in December to help the Schoharie Valley Animal Shelter and the Albany Ronald McDonald House. Students, staff and community members purchased and donated items listed on the tree's ornaments. The girls basketball teams and coaches Chris Herron and Kristina Graziadei took several tags off the tree for the shelter, with players signing up and shopping for many of the shelter donations.  In the photo above, council members Breeanna Moss and Wyatt Moss pose with donations collected for the animal shelter. They delivered the donations to the shelter and Ronald McDonald House.
Spreading Christmas cheer by singing loud for all to hear – and sharing cookies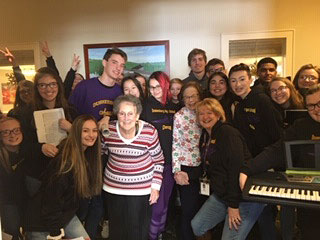 The high school choir caroled at area nursing homes in late December, sharing their talents and bringing joy to residents and staff alike. The high school Student Council sweetened the effort: they put together cookie trays for nurses stations at each nursing home the choir visited.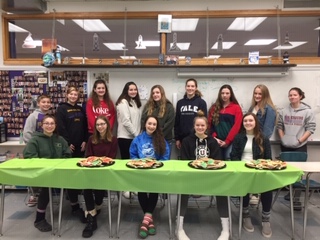 Beautiful wreaths help local families
Students in the high school's Leo Club created beautiful pine wreaths decorated with bows, balls and berries, which they sold as a holiday fundraiser. As all of the materials were donated, the club was able to use all proceeds to support local families in need.
Wrapping up joy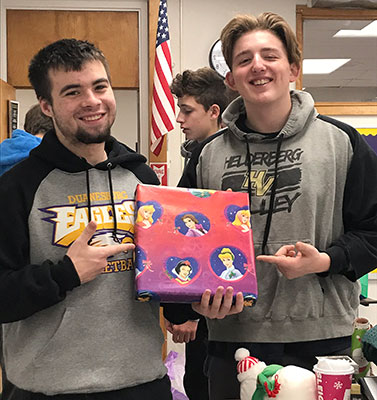 The boys basketball team took a break from the court to make two local families' holidays happier by wrapping several donated gifts right before Christmas.