Duanesburg students from K to 12 will perform The Emperor's New Clothes as part of a traveling summer program offered by the Missoula (Montana) Children's Theatre.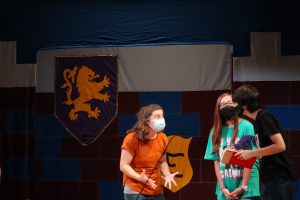 During the week of July 26, about 50 students will audition for parts, rehearse with their fellow actors and perform two shows, 3 p.m. and 6:30 p.m., on Saturday, July 31, in the Jr./Sr. High School Auditorium. 
Missoula Children's Theatre touring productions come complete with costumes, scenery, props and makeup. Adult directors from the Children's Theatre are guiding the actors through the long days leading to the curtain rising. 
The play is sponsored by Duanesburg Friends of Music, the Duanesburg Education Foundation, the Duanesburg Community PTA and a grant from the Schenectady Initiative Program.
Each show is one hour. Pre-ordering is not required. Tickets are $5 at the door. All are welcome.
About the show
"Dress for success" is good advice that the Emperor takes wholeheartedly, wanting to impress new friends. But where to stop? When the clothes (and other people's opinions) become more important than the people of the kingdom, trouble brews. To help their beloved Emperor find the way back to his heart, his true friends create an elaborate "birthday suit" for the Emperor to wear for his birthday parade celebration. The Emperor quickly and humbly learns that sometimes "less is more!"