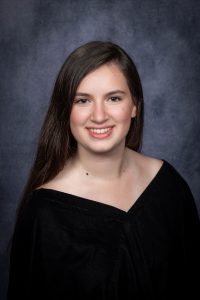 Ms. Virginia Tower has been named Valedictorian for DCS' graduating class of 2023. She is the daughter of Jean and Don Tower. She will be taking a "gap year" after graduating from DCS, with plans to work and save money while she assesses her options for what her next step will be.
Tower has been an academic standout throughout her entire career at DCS. Recent awards include the RIT Innovation & Creativity Award Program, NYS Capital District Society for Women Engineers, and Society of Women Engineers (SWE) Certificate of Merit.
While at DCS, Tower took several AP courses which she said were "more rigorous than normal high school classes" and expanded her "knowledge and skills in a way that would benefit any path" she chose to take in life.
Tower singled out DCS English teacher Rebecca Pless as the teacher who influenced her most during her time in the DCS district, saying Pless "was very effective in pushing me and all of her students towards their potential." "I will always appreciate her joy for teaching, enthusiasm for literature, and love for her students," Tower added.
Outside of academics, Tower is very active with dance and drama. She took ballet and jazz lessons with Orlando's School of Dance and Creative Dance Arts. She has danced in the Moscow Ballet's "Nutcracker" twice and in "Melodies of Christmas" four times. She is the president of DCS Drama Club and played the part of Gabriella in "High School Musical" her junior year, and the Fairy Godmother in "Cinderella" her senior year.
When she's not in school, Tower volunteers at a children's bible study at Abounding Grace Christian Church, assists monthly with children's ministry and is a peer tutor in math.
When asked for her advice to younger students, Tower said:  "School can be difficult and, worse yet, seem pointless sometimes, but high school isn't so much about the content they teach, but learning to overcome challenges. If you can learn to work hard at things you don't like to do, that skill will serve you well all your life, and when the hard work pays off, you'll build confidence and self esteem."
---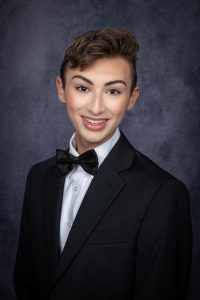 Mr. Andrew Longo has been named Salutatorian for DCS' graduating class of 2023. He is the son of Josepha and Craig Macherone. This fall, Longo will be attending Northeastern University to study journalism and political science, with future aspirations of becoming a broadcast journalist/news anchor for a national news platform. He will study abroad in Dublin, Ireland during his first semester at Northeastern.
During his time at DCS, Longo excelled academically having been named to the High Honor Roll each quarter since 7th grade. He is also involved in many extracurricular activities, including Masterminds (since 8th grade) and serves as a manager and athlete on the varsity track team. He founded the DCS Book Club and serves as the group's president. He also was tapped to be the lead anchor for DC2TV, a daily news broadcast for the Jr.-Sr. High School. 
Longo lists digital media and production class with Mr. Lohret as one of the most influential classes that he took at Duanesburg. "I was able to gain real-life experience in the field that I intend to pursue and feel much more comfortable with the process of news production," he said. 
He also noted that his participation in National Honor Society taught him "responsibility, and many real-life skills – time management, above all else." He praised Mock Trial for teaching valuable lessons in public speaking, and teamwork.
Longo says that he forged many important relationships with his teachers over the years and when asked to highlight just one, he responded with two names – Rebecca Pless and Lisa Della Rocco. "They have been there for me, even when I didn't have them as teachers," he said. "I have taken classes with each of them for four years and their support has meant the world to me."
His advice to younger students at DCS:  "All of the hard work that you put in, from middle school and up, really does pay off. You may be stressed now, but high school is a temporary moment of your life, and trouble you may have with school or friends will all be over before you know it, so keep your head in the game. Teachers – or anyone you're trying to develop a good relationship with – value hard work and respect. If you prove to them you are dependable and willing to work, they will respect you and treat you the same."