UPDATE (1/17, 2:48 p.m.): 
Due to icy road conditions, after-school activities are cancelled today. The safety forum which was to be held at 6:30 in the auditorium this evening will be shifting to a virtual event. You can join that event at the link below. Thank you for your flexibility and drive carefully if you have to be on the roads!
Safety Forum – VIRTUAL
Tuesday, January 17 · 6:30 – 7:30pm
Google Meet joining info
Video call link: https://meet.google.com/fwf-amqo-kpt
Or dial: ‪(US) +1 570-481-1258‬ PIN: ‪638 184 206‬#
---
Community Can Submit Questions in Advance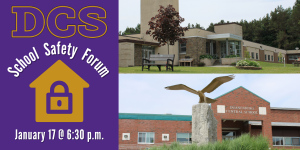 The DCS community is invited to attend a School Safety Forum at Duanesburg Jr.-Sr. High School at 6:30 p.m. on Tuesday, January 17. The event will take place in Joe Bena Hall. No RSVP is required.
Superintendent of Schools Dr. James Niedermeier will give a presentation detailing the district's safety policies and procedures, and share various safety upgrades that have been made throughout the district in recent months. 
"The safety of our staff and students continues to be our top priority at DCS," Niedermeier said. "The safety plans we have in place are continually assessed to make sure they suit the needs of our community, adequately address potential ever-changing dangers, and help us maintain a place that is safe to both teach and learn in. We run safety drills several times throughout the school year so that our staff and students are prepared and know what is expected of them in an actual emergency," he added.
Building leaders and members of the district's Mental Health and Wellness team will also be on hand at the forum to explain their roles in school safety, and make sure the community is aware of resources that are available to students and their families.
Anyone from the community can submit a question in advance using this Google Form:  http://bit.ly/3GTzjsp 
If you can't make it to the forum in person, the presentation will be recorded and available for on-demand viewing on the district's YouTube channel (@DCSEagles):  https://www.youtube.com/@DCSEagles