Congratulations to the top 10 seniors in Duanesburg Jr./Sr. High School's Class of 2020:
1 – Domenic Gallo, valedictorian
2 – Morgan Hack, salutatorian
3 – Zachary Gamache
4 – Cayla Schaeffer
5 – Sarah Lindecke
6 – Emily Lane
7 – Makenna Todd
8 – Tennison Tower
9 – Kayleigh Forslund
10 – Dylan Carlson
Introducing our 2020 Valedictorian and Salutatorian
Music, art, sports, community service and solid advice for their younger peers: Duanesburg Jr./Sr. High School's Class of 2020 valedictorian and salutatorian have led full and active student lives at DCS, a place both will remember fondly despite a senior year marked by a global pandemic.
An eye for design and a passion for music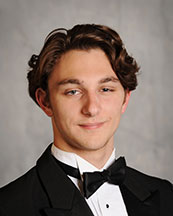 Duanesburg Class of 2020 valedictorian Domenic Gallo has his sights set on a unique career: designing music products and technology. To pursue his dream, he will study industrial design at Syracuse University this fall.
As a DCS student, Domenic played trombone in jazz band, but his interests and talents extend beyond music. He swam with the Duanesburg Electric Eels, and he worked and volunteered at the YMCA, where he helped with the swim team.
Domenic's interests outside of school center around both music and art. Besides playing his trombone, he said he "likes to write music in my free time, and I also play a little bit of piano, bass and guitar. It's mostly like indie/jazz. I also do a lot of drawing and art stuff."
Domenic was awarded a Visual Performing Arts Leadership Scholarship at Syracuse University.
As a personal goal, Domenic envisions living and working in Boston after college.
When asked what advice he would share with younger DCS students, Domenic said, "Focus your energy on the aspects of school that give you the most personal happiness, whatever subject feels the most important and fulfilling for you."
A career helping others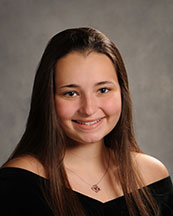 Sports, clubs, volunteering – DCS salutatorian Morgan Hack packed a lot into her high school years and believes in the value of hard work. She played on the soccer, basketball, softball and cheerleading teams.
She was involved in Leo Club, Student Council and National Honor Society. Morgan also volunteered at the concession stand for Duanesburg Booster Club and Schoharie Little League and with Special Olympics.
Morgan achieved Principal's List every quarter, was a member of the 95 and Above Club and earned NYSPHAA Scholar-Athlete recognition.
Her commitment to her school, community and academic excellence has not gone unnoticed. She has been honored with the Elmira College Key Award, Delanson Community Government Award, DCS Booster Club Eagle Scholar Athlete Award, New York State Regents Award for Academic Excellence and Schoharie County School Boards Association Award.
In the fall, Morgan will head to Elmira College to study physical therapy so she can "become a physical therapist and help those in need."
As a personal goal, Morgan would like to purchase her own home once she's working in her profession.
When asked what advice she would share with younger students in her school, Morgan said, "Don't goof around or blow off any homework or classwork. Pay attention and work as hard as you can, because in the end, all of the hard work is worth it."
Strength in memories and community
When interviewed by a local newspaper for an article about top high school students, Domenic and Morgan recalled happy memories of their times at DCS, memories that helped sustain them when school was closed due to the COVID-19 pandemic.
Morgan said she was "really going to miss all of my friends, my favorite teachers, and all of the memories we've made together. I can't imagine what my life is going to be like without everybody I've become close to over the past few years."
When asked what it was like to graduate during a global pandemic, Domenic said he "found it helpful to remember the years and memories of the past that I value so much."