We have created this 2020 Graduation planning page so you can track the progress of Graduation plans. We'll continue to post new information so that you are aware of any updates.
All information on this page is subject to change and no ideas or statements are permanent plans per final guidance from the State of New York on the end of year school events.
Update June 24: View our graduation video stream!
Please join us for the Duanesburg High School Class of 2020 Graduation Live Video Stream on June 26, 2020, beginning at 5:30 p.m. by visiting https://youtu.be/UCOIE399JAk .
Update June 17: Updated Graduation Plan, June 26, 2020, 5:30-7:30 p.m.
As a district we wanted to let you all know how much we appreciate your continued patience and flexibility;  we have needed to make adjustments and updates to our graduation as things have changed almost daily from the governor.  This event is as important to us as administrators, faculty and Board of Education as it is to students and families. THANK YOU!
In-Person Graduation
On Friday, June 26, 2020, from 5:30-7:30 p.m., Duanesburg will be hosting our High School graduation.  This ceremony  will be held on the baseball field behind the High School.  Each senior will be allowed to bring 2 guests only, and if possible, we would like to have all three individuals arrive in one car.  Please contact Mr. DiTondo or Mrs. Marvin if an additional parking spot is needed.
Please remember: ALL  attendees at the gathering must wear a mask or face covering at all times if they are over age two and able to medically tolerate a covering. Individual students may temporarily remove their masks or face coverings while crossing the award area or having their individual photo taken.
Graduation Arrival Process 
(We will be providing a golf cart for any guest who may need assistance getting to the baseball field.)
4:30 p.m. – No guests are allowed to arrive before 4:30 p.m. on June 26, 2020
4:30-5 pm. – Graduates and families arrive and wait in assigned parking spots. (numbers will be sent to the seniors)
Staff will give out tickets (pre-numbered) to seniors and guests upon their arrival
 Each student gets three tickets–one for the student and one for each family member allowed. "Jane Doe"/ "Guest #1 (Jane Doe)"/ "Guest #2 (Jane Doe)"
Guests will go to the baseball field where they will give their tickets to staff at the gate, following social distancing protocols.
5-5:30 p.m. – Prepare for ceremony.
Graduates will be lined up  in sequential order and begin to proceed to the back of the building, maintaining social distancing protocols. (There will be numbers to indicate where students are to line-up.)
Graduation Ceremony Steps
After guests are all seated, we will play Pomp and Circumstance and graduates will begin the Processional.
Odd-number students are going to the right, going around the outside of the tent and proceeding up the center isle.
Even numbers will go to the left, going around the outside of the tent and proceeding up the center isle.
Due to the limited number of guests allowed on campus, the event will be live- streamed for people to watch off campus, we will also have large screens set up in the tent.
We will have a photographer positioned to take a photo of each student receiving his or her diploma.
Lingering before or after the graduation event is prohibited (including photo taking)
Map
Each senior will be provided a number which will designate their parking – staff members will be located in the parking lot to provide assistance.  (We will be providing a golf cart for any guest who may need assistance getting to the baseball field.)
If you need Handicap Parking please contact Mrs. Marvin or Mr. DiTondo.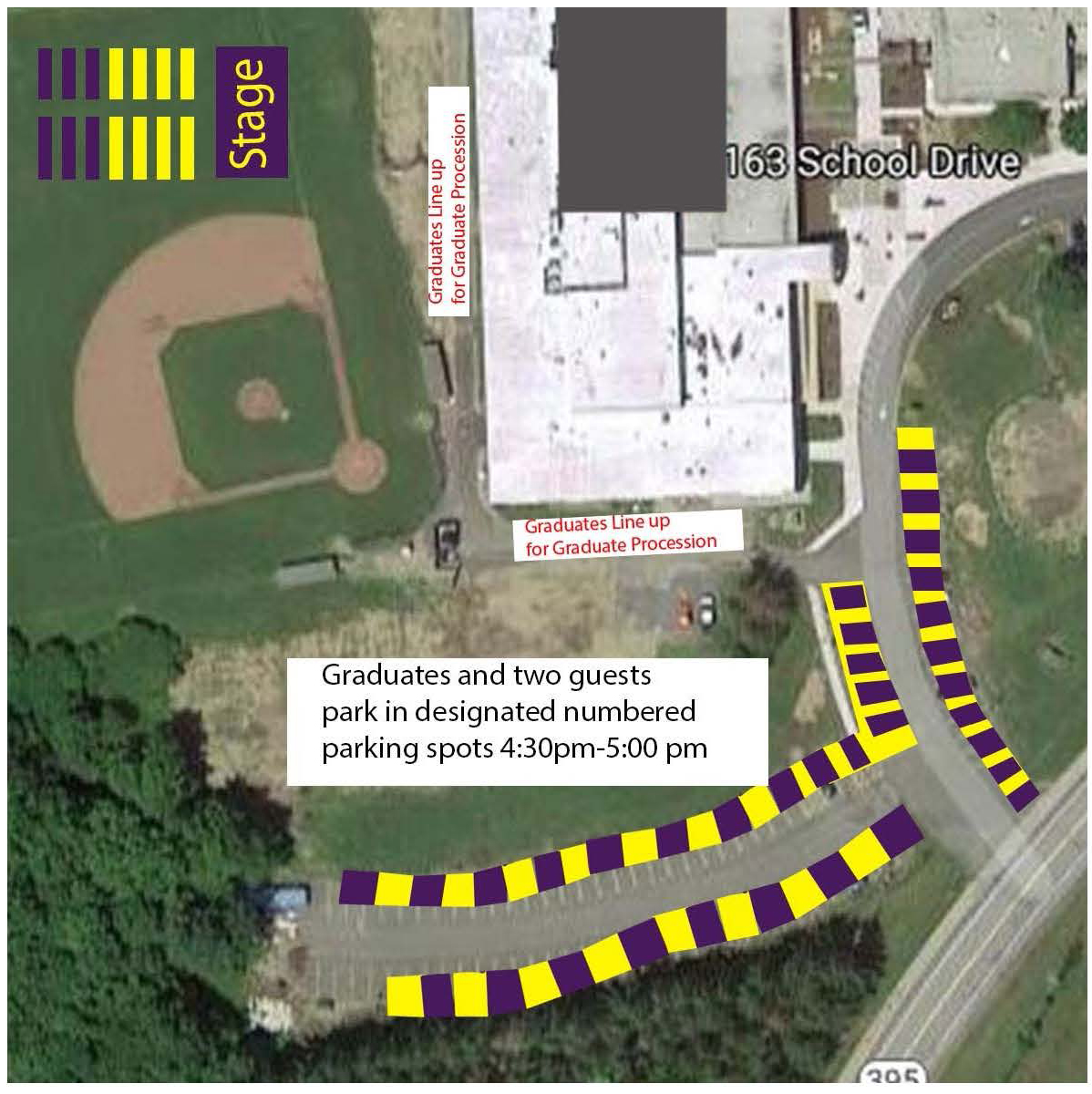 Updated NYS Department of Health Graduation Guidance
Posted June 5:
Cap and Gown Distribution
Thursday, June 11, will be a Parade of Caps, Gowns & Adopt a Senior gifts to seniors' homes. High school faculty and administrators will travel on three school buses to each student's home to drop off their cap, gown and Adopt a Senior gifts.
Virtual Graduation Ceremony
The Duanesburg High School Class of 2020 Virtual Graduation Ceremony will be a web-based event being produced for release via the internet following the  graduation ceremony. Seniors and their families may contribute reflections to the production. The Virtual Ceremony will recognize each graduating senior and include traditional commencement addresses by valedictorian Dom Gallo and salutatorian Morgan Hack, and by class officers, advisors and school administration.