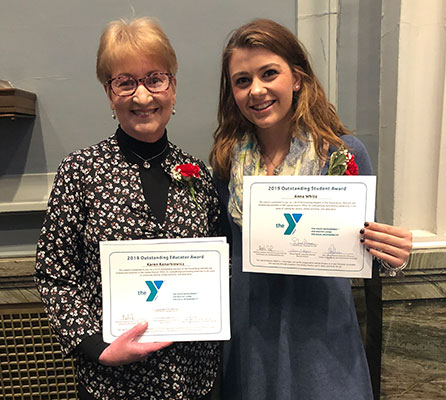 Duanesburg High School senior Anna White has been named an Outstanding Student by the Capital District YMCA in honor of her contributions to school and community that demonstrate the Y's core values of caring, honesty, respect and responsibility.
Duanesburg high school social studies teacher Karen Kanarkiewicz was named an Outstanding Educator by the Capital District YMCA in honor of her effectiveness in working with students, impact on community development and leadership.
They received their awards at an April 3 ceremony at Key Hall at Proctors, where they were honored with students and educators from the region served by the YMCA's Duanesburg, Glenville and Schenectady branches.
The event program recognized both students and teachers. The student section said, "Through her school's National Honor Society and Student Council, Anna White is able to serve others annually at the Salvation Army. After high school, Anna hopes to continue volunteering at a food pantry. She wants to inspire others to get more involved and spread compassion through service."
According to the educators section of the event program, "Karen Kanarkiewicz is a compassionate social studies teacher who focuses on her students' strengths, guiding them to their maximum potential. Karen serves as advisor of the Leo Club, Duanesburg's community service-based organization supporting the Lions Club.
"Karen also oversees a grant helping students to attend various shows at Proctors and works to bring Proctors actors to the school for on-campus performances. From fundraising efforts to supporting mission trips, to her work with Utica College and the Kyrgyzstan Cultural Exchange Program, Karen has earned the respect of her students and her colleagues."
Duanesburg's honorees were nominated by the high school counseling office.