One swims with eels, while the other likes to horse around. Both play instruments, but he's a heavy metal fan, while she listens to "anything and everything, from country to rap music." His future career involves subatomic particles, while hers centers on large animals.
Duanesburg's Class of 2019 valedictorian Jacob Harris and salutatorian Hanna Avery are divergent in their dreams and interests, yet they are very much alike as positive, engaged and inspiring individuals.
Let's get small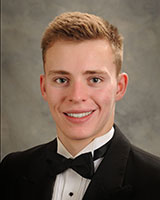 Jacob didn't always want to be a nuclear physicist, but he fell in love with the subject in Eric Dornbush's class at Duanesburg High School. "He gave me the spark and allowed me to see it as a career opportunity," Jacob said about his physics teacher.
In the fall, Jacob will head to Rensselaer Polytechnic Institute (RPI) in Troy for a five-year program that will allow him to earn both bachelor's and master's degrees in physics.
Jacob is a National Merit Scholarship Finalist and high-achieving student who was awarded several scholarships, including the RPI Rensselaer Medal. The four-year, $25,000 award will help pay his way at a college he chose for its physics and swimming programs.
Jacob has been a member of the Duanesburg YMCA Electric Eels swim team for the past seven years. Prior to swimming, he played Little League. A DCS student since kindergarten, Jacob was captain of his high school's MasterMinds team, holds the league record for points scored by an individual player, and was voted Most Valuable Player by his league peers.
Jacob played in band at DCS from fourth through eleventh grade, mastering the trumpet and the baritone. He was active in community service as a member of the National Honor Society.
Outside of school, he volunteers at the Princetown Church Vacation Bible School. When not studying, volunteering or swimming, he enjoys playing the card game Magic: The Gathering with friends and can sometimes be found playing a videogame.
When asked how other students would describe him and Hanna, Jacob said, "Intelligent, driven and able to overcome adversity."
Patients in the field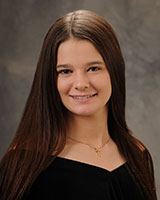 Hanna Avery has always wanted to be a veterinarian. She will begin her pre-veterinary studies at Houghton College this fall, working toward a biology major and an equestrian studies minor. The small, western New York college is acclaimed for its science program and should provide Hanna with a solid start toward her goal of specializing in large animal and agricultural veterinary medicine.
At DCS, Hanna was a National Honor Society member who earned a number of scholarships, including the Houghton College Founders' Scholarship, a $16,000 annual award. A two-season Scholar-Athlete, she was a member of the cross country and track teams and was named a Western Athletic Conference All-Star. She'll continue with those sports at Houghton.
Hanna began playing clarinet and alto saxophone in the DCS band in fifth grade after moving to the area from Westfield, Mass. She also played in high school jazz band.
When not in school, Hanna likes to run and to ride horses. Experienced in western riding, she is learning dressage to prepare for college. Hanna also enjoys photographing animals and nature.
In addition to community service with the National Honor Society, Hanna volunteers in the nursery and as a deacon at Messiah Lutheran Church in Rotterdam. She also has served as a youth group leader at Camp Pinnacle in Voorheesville.
When asked how others would describe her and Jacob, Hanna said with a laugh that fellow students would characterize them as "nerds," while adults would describe them as "hard-working, generous and positive."
Duanesburg Central School District students and adults alike are well represented  by Jacob and Hanna as their  Class of 2019 valedictorian and salutatorian.