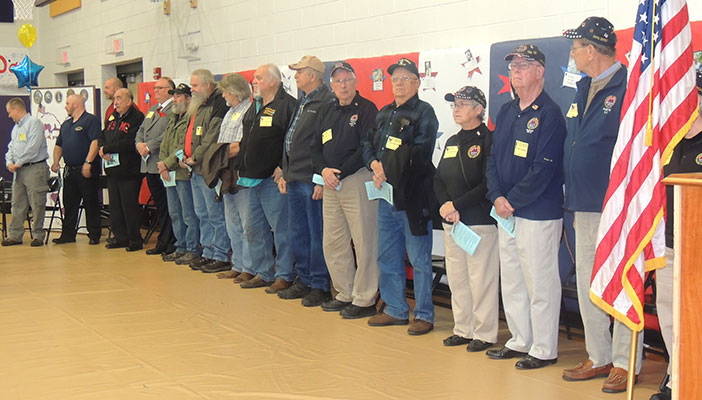 DCS students and staff honored the men and women who have bravely served our country at special Nov. 9 ceremony at the elementary school, where they also presented donations for wounded soldiers in Germany.
Among the  veterans and service members honored at the event were students' own family members and local Duanesburg hero, U.S. Marines veteran April Kellerman, who served as guest speaker.
Highlights also included:
• Elementary children welcoming veterans, singing songs and presenting thank you letters.
• Student Council members giving speeches about the history of Veterans Day.
• Presentation of the Colors by the Saratoga National Cemetery Honor Guard.
• Presentation of letters written by third grade students to attending veterans thanking them for their service.
• Presentation of students' collection of donated goods and funds to Marcia Carlson of the Wounded Warriors Project, who will send care packages to wounded soldiers at the Landstuhl Regional Medical Center in Germany.
• Performances by the Duanesburg High School Band, directed by Scott Hopkins, of music including "Armed Forces Medley" and "Americans We."
• A performance of "Taps" by Norman Miller, a local Air Force veteran.
The annual Veterans Day event is hosted by the DES Student Council.