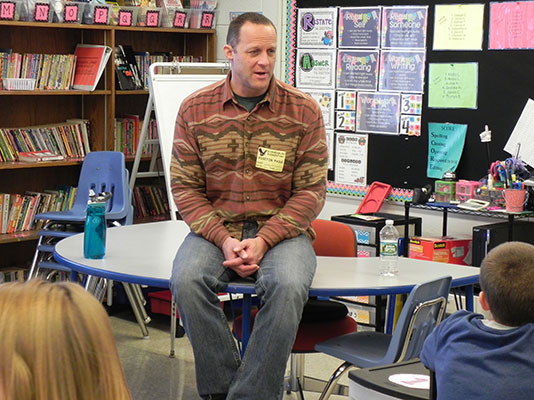 What do you get when you combine a monster, a natural setting and an original story? A safer kid.
On Nov. 19, DCS 4th graders learned about keeping themselves and others out of danger during a day of storytelling and lessons on writing cautionary tales by James Bruchac, an award-winning author, Abenaki storyteller, animal tracker, wilderness survival expert and cultural educator.
Bruchac, who visited their school through a BOCES Arts in Education grant, presented a storytelling in the morning and writing workshops throughout the school day. The children crafted their own stories featuring local landforms such as streams, lakes, preserves and parks. They had to create a character who's a monster, pick a natural setting in or near Duanesburg and then write a cautionary tale.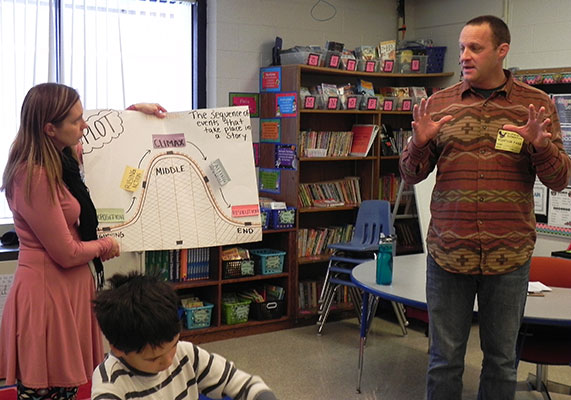 During her class's workshop with Bruchac, 4th-grade teacher Erin Goodwin told the students that her great-grandfather, William Christman, who owned the land now known as the Christman Sanctuary, used to tell her stories about how to stay safe there. She and Bruchac brainstormed local natural settings with the children.
The key message of the day was to stay safe, behave well and avoid danger. Bruchac's goal when working with children is to help them "spread the word to all those 'not so good' kids." His workshops and books teach children "how not to get lost, how to avoid hazards and master survival skills such as making shelter and fire, water and food."
Bruchac's books include "Be Good," " How Chipmunk Got His Stripes," and "When the Chenoo Howls: Native American Tales of Terror." He lives in Greenfield Center in Saratoga County.