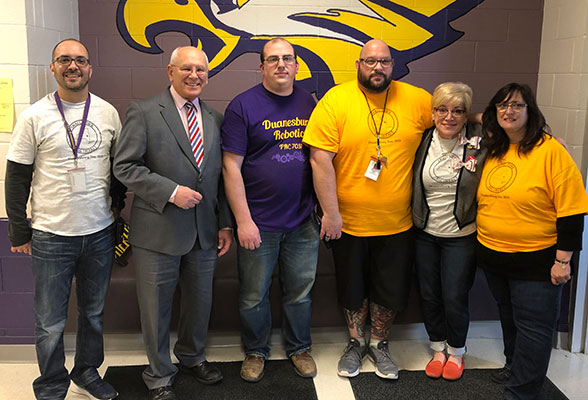 Duanesburg Day returned to the DCS high school campus on Saturday, April 6, 2019 and the free, family friendly event was a great success.
A photo album is posted on the district's Facebook page, @duanesburgschools.
The fun and festive day, planned by a committee of community members working with DCS staff, featured:
A kick-off ceremony in Joe Bena Auditorium, with comments by government officials and a special dedication and plaque ceremony
A flag ceremony by Boy Scouts and Girl Scouts
An arts, crafts and vendor fair
A Scholastic book fair
Lots of hands-on activities, student displays and demonstrations featuring history, art, music, science, technology, and student clubs, activities and sports
An on-site confidential shredding truck, provided by First New York Federal
Credit Union
Food, music and fundraisers
Photo booth
Llamas and fiber arts
Free popcorn by the Lions Club
An instrument petting zoo presented by Old Songs
Guided bus tours of historical Duanesburg sites, including the Episcopal Church and Quaker Meeting House
Library, environmental and cooperative extension displays and demonstrations
Presentations and displays by local government officials, civic and community organizations
Safety presentations and displays by law enforcement and other first responders, including K-9 units, DVAC, impaired driving goggles and emergency preparedness
Presentations by local businesses and groups serving area youth
A district Talent Show following the event
Thank you to all in our community and school who made Duanesburg Day 2019 a great success.