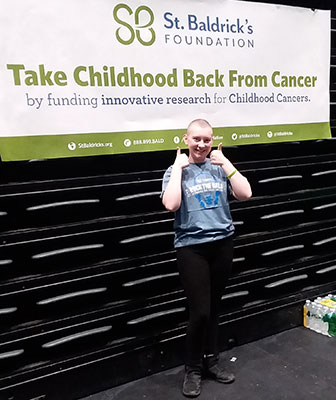 It all started when her friend Jacob was diagnosed with leukemia, and Kristen Johnson wanted to help and support him. Fast forward four years: Jacob is in remission and Kristen is still shearing her locks for the cause.
On March 23, Kristen had her head shaved at Proctors in Schenectady as part of  a fundraiser for St. Baldrick's Foundation to Conquer Childhood Cancers. She has raised nearly $400 so far this year for  childhood cancer research, and she hopes to increase that amount. Donations may be made online via the St. Baldrick's Foundation website, https://www.stbaldricks.org/, where she's listed as Kristen J., Schenectady. Donations will be accepted through the end of the calendar year.
Kristen continues to support St. Baldrick's "to raise money and awareness." Does she miss her hair? "Yeah I do, but I get used to it," she said. "It's weird when I go to reach for it and it's not there, and the hardest thing about it is not getting a sunburn on my head. I also have to wear a hat to stay warm."
As her four-year fundraising total approaches $2,900, Kristen's caring efforts will undoubtedly warm the hearts of many others in her school and community.