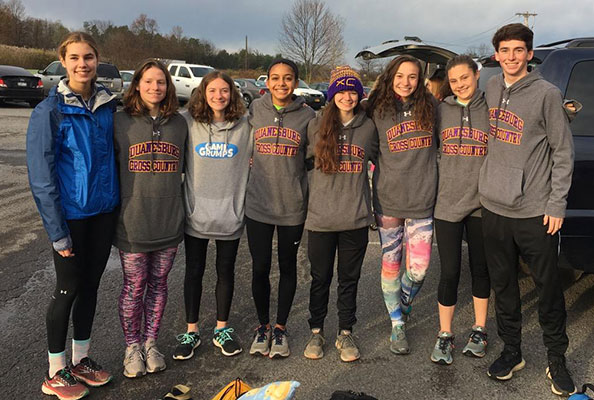 The Duanesburg girls cross country team ran to a 5th place finish and boys team member Andrew Drescher represented DCS well among a crowded field at the New York State Cross Country Championship Meet at Sunken Meadow State Park, Long Island, on Nov. 10,  capping off an incredible season.
Coach Deann Lynch reports:
"The team was led by Elaine Atanasova – 14th place, who ended her DCS cross country career with her 5th straight top-20 finish at the State meets. Seniors Jenn Skeeter – 27th, Hanna Avery – 53rd and Alice Cole – 54th all finished their cross country careers with very solid races.
"Freshman Jessica Archambeault – 67th, 10th grader Alanna Mitchell – 81st and 8th grader Haily Lawrence – 93rd rounded out the scoring in a race on one of the most challenging cross country courses in the country.
"Congratulations to Elaine on being recognized with the Sportsmanship Award for Section 2, Class D runners."
DCS junior Andrew Drescher took on the tough course and ran strong among a large field of competitors.
Great job Andy, and congratulations to all of the runners for a job well done.