DCS's cross country teams had another great day of competition on Oct. 13 at the Burnt Hills Invitational in Saratoga Spa State Park, and the boys team ruled the duals Oct. 16 in Schoharie .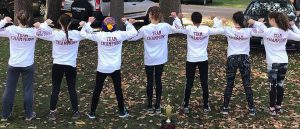 The girls team won the invitational, defeating 15 teams for their fifth invitational win this season. Duanesburg placed four runners in the top 20. Elaine Atanasova placed 1st, Jenn Skeeter placed 6th, Alice Cole placed 16th and Hanna Avery placed 20th. Jessica Archambeault, Alanna Mitchell and Haily Lawrence rounded out the scoring. 
Five team members ran personal best times at Saratoga State Park, and Elaine Atanasova set the school record for the course with a time of 18:23.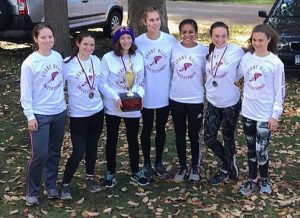 The boys modified cross country team placed fourth in the B race, where 29 schools were represented.
Ryan Coons placed 21st and Murphy Hyde 24th, while Jim Benway, Ethan Myers and Vanz Llamasares also scored for the "mods."
The boys varsity team placed fifth of 30 schools represented in the Division 1,  small school race. Andrew Drescher finished third, while George Atanasov and Sal Gallo also had top fifty places.
On Oct. 16 at Schoharie High School, competing without two of their top three runners, the boys varsity team won two of three meets in earning a share of the WAC dual meet title. Duanesburg, Fonda-Fultonville and Fort Plain-Canajoharie all finished the dual meet schedule with 8-1 records. 
Since 2012, the boys team has a dual meet record of 60 wins and 4 losses,  including unbeaten seasons in 2013, 2014,  2015 and 2017.
Well done, runners!
The cross country teams will honor their seniors on Monday, Oct. 22 in the high school cafeteria at 5 p.m. All are welcome to come and celebrate.