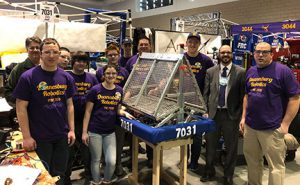 They accepted a big challenge for a competition with their peers from across the Americas, and when it was over, Duanesburg's Robotics Team 7031 brought home an award for their first-year effort and some great experience for future events.
"The FIRST (For Inspiration and Recognition of Science and Technology) Robotics Competition started in 1992 and since then has involved more than 7000 teams," said DCS technology teacher Michael Gauthier.
"Duanesburg was ready to jump in on the fun. So, with the help of technology teachers Dan Schielke and I, and retired GE engineer George Goodman, a group of eight students went to work. Once the team found out what this year's competition was in January, we had only six weeks to design and build the robot."
The team met almost every day after school and during weekends and breaks, totaling more than 120 meeting hours. Their challenge: design, build and program a robot that would lift two 120-pound robots off the ground.
The team participated in a regional FIRST event at RPI in Troy March 15-17 with teams from as far away as Canada and Brazil. After experiencing some technical issues, DCS finished 24th out of 35 after the first day of the competition. "One more day to go before the dreams of the world competition were to fade," Gauthier said.
By the end of the event, DCS finished 29th, and the team received a Rookie Achievement Award which "recognizes teams who had challenging robot assignments for their first year of competition," Gauthier noted.
"Duanesburg's Robotics team 7031 would like to expand for next year," Gauthier said. "Anyone in grades 7-12 is welcome, as are parents and community members. Contact me at Mgauthier@duanesburg.org."