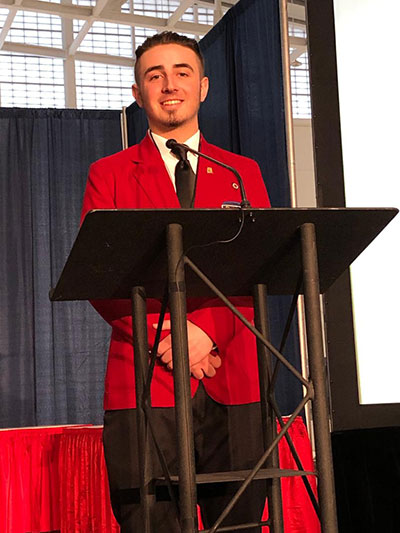 DCS senior Aidan Enders headed to Washington, D.C., Sept. 21 to meet with national leaders about career and technical education
Aidan, who studies diesel technology at the Capital Region BOCES Career & Technical School in Albany, is president of the 12,000-member New York State SkillsUSA organization. At the organization's Washington Leadership Training Institute (WLTI) Sept. 21-25, he will not only receive leadership training, but also put those skills to the test.
He will meet with local representatives such as U.S. Rep. Tonko and Sen. Charles Schumer and take part in advanced training that focuses on professionalism, communication and leadership skills.
"I'm looking forward to it. It's going to be fun and educational," Aidan said. "It's going to be an excellent opportunity. The summer leadership training in Rochester was awesome. I learned a lot and met some great people. This should be even better.
"A Career and Technical Education is such an important thing for students. Learning skills that they can put right to work or build a foundation of a career on is crucial, and I am happy to be part of an organization that works to ensure it will continue to be offered," Aidan added.
While in Washington, D.C., Aidan will also take part in a wreath laying ceremony at the Tomb of the Unknowns and visit historic sites.
In addition to serving as New York's SkillsUSA president, Aidan is active in his community as a volunteer with the Delanson Fire Department and Duanesburg Volunteer Ambulance Corps. He recently earned New York State certification as an Emergency Medical Technician (EMT).
SkillsUSA is a local, state and national professional organization teaching technical, academic and employability skills that help high school and college students pursue successful careers. Members build such skills through student-led charitable acts, leadership conferences and other activities. Students in SkillsUSA also participate in hands-on competitions in various career fields.