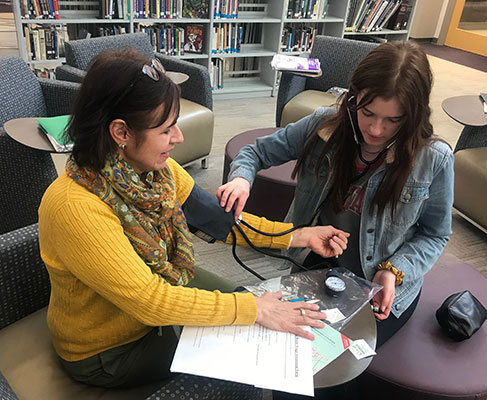 Students in Sondra Rondeau's Life in the ER class at Duanesburg Jr./Sr. High School have been focusing on various psychiatric emergencies in their latest unit of study.
A few weeks ago, they researched mental disorders and presented their findings to the class.  Last week, the students collaborated with high school librarian Yvonne Keller-Baker to learn how to use the Diagnostic and Statistical Manual of Mental Disorders (DSM), which is used by clinicians and psychiatrists to diagnose psychiatric illnesses.
The students then practiced using their diagnostic skills during fictitious mental health triage scenarios, with the help of volunteer staff members.
To finish the unit, Peter Brodie and John Mollevik of Duanesburg Volunteer Ambulance Corps will talk to the class about their experiences with psychiatric emergencies.