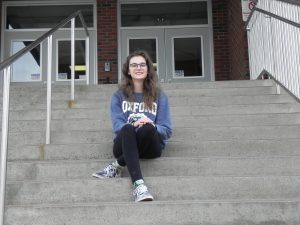 DCS senior and outstanding student Alison Fiorini is headed to Oxford University, St. Hilda's College, in England this fall to study law. She is one of just six students worldwide accepted into the college's law program, which prepares them to enter the legal profession after three years of intensive study.
In the U.S., students traditionally complete four years of undergraduate study before heading to law school. The shorter length and law-specific focus of the Oxford program appealed to Alison, who had fallen in love with England during a family trip two years ago.
When she was younger, Alison wanted to become a veterinarian and then a psychologist. She traces her interest in law to her participation in Duanesburg High School's Mock Trial club. The group needed members, and she was recruited as a freshman by advisor and social studies teacher David Schalekamp.
Alison is now planning a career in family or civil rights law with a focus on in international human rights. "I'd like to help people and give a voice to those who might not have one," she said. "I'm not sure if I will work here in the U.S. or in Europe."
A 2016 summer internship at Schenectady County Family Court also piqued her interest in the legal system. "Family court is more of a rehabilitative than punitive system, and my internship was pretty spiffy," she said.
When she completes her studies at Oxford, Alison will have an LLB degree (Legum Baccalaureus, also known as Bachelor of Laws), and then she can begin training via a one or two-year course as either a barrister or solicitor, akin to an attorney in the U.S.  Earning an LLB will also qualify her to take a bar exam to become an attorney in the U.S.
Oxford is a private university with 39 colleges that offer a variety of degree programs as well as subspecialty programs, such as law at St. Hilda's.  Alison was accepted at four of the five English universities to which she applied.
When asked what advice she'd have for a student considering a competitive college, Alison said, "Keep focused on what you want to do, on your goals, and keep working hard. Learn what you can do to get to the next step, for example, what tests and courses you should take."
Alison on her experience as a DCS student: "It would be hard to show your abilities [to a college] without advanced courses to show your worth and what you are capable of. Giving students a chance to excel and not just do well is important. I wouldn't have been able to attain my dream without Duanesburg's offering different courses and different opportunities."
Alison says she is ready and looking forward to heading across the pond this fall. Her only challenge? She can't just pack up the family car to head off to college.