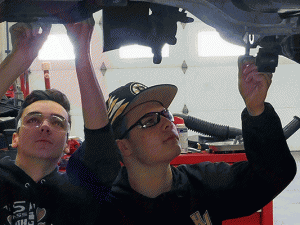 Careers in clean energy and investigation lie ahead of DCS class of '19 grads Alexander "Xander" Monroe and Katherine Zapotocki as they head off to college.
Both students earned career and technical education endorsements on their Duanesburg diplomas by completing programs at the Capital Region BOCES Career & Technical School as well as academic coursework at DCS.
Xander completed the automotive technology at Career & Tech, but is now pursuing a degree in clean energy management at Hudson Valley Community College.
He was drawn to solar and green energy as a promising career. "Right now with solar power, wind power, hydro electrical and green energy, there is so much opportunity. It just strikes me as a growing field with a lot of jobs," Xander said.
The skills Xander learned at Career & Tech, both automotive and life skills such as time management and effective communication, will support both his college and career success.
"I will be able to not only work on my own cars, but when I graduate college, I will have a work van to get to places, and I will be able to keep that on the road," Xander said.
"I learned a lot of communication skills at BOCES. I dealt with a lot of customers and had to gain an understanding of what they need and learn how to relay that information," he said, adding "that's important in every job that exists."
Fellow DCS class of '19 and Career & Tech graduate Katherine Zapotocki will likewise tap skills learned at both schools as she furthers her education toward a possible career as a homicide investigator or detective.
Katherine, who was honored in June as the Schoharie campus criminal justice Outstanding Student for 2019, said, "I think criminal justice is interesting. You get to solve problems and help people."
To build on her knowledge and prepare for such a career, Zapotocki is headed to SUNY Canton in pursuit of a bachelor's degree in criminal justice. "I like that their program they offer is pretty hands-on, just like at BOCES," she said. "[And] the certificates and the skills you learn really give you an edge."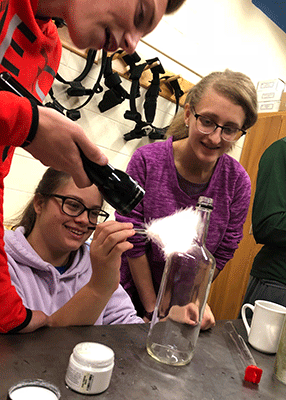 In the photos
Top photo: Xander in automotive technology class with fellow student Don Squires of Schalmont.
Bottom photo:
Katherine (standing) observes as fellow criminal justice students Jayden Kendel of Sharon Springs and Laura Welter of Duanesburg dust a bottle for fingerprints.
Duanesburg: Small schools, Big impact