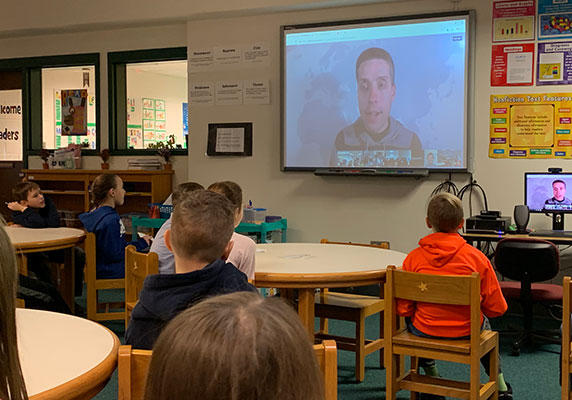 Duanesburg Elementary students find learning about big cats is even more exciting when a National Geographic live video link connects them with educators, scientists and other students from around the world.
On Dec. 11 and 12, fifth graders traveled the globe from their seats in the elementary library via a live Internet simulcast with peers in several mid-western states, Ontario and Quebec in Canada, and Bengaluru, India. They participated in lessons and discussions about big cats and the preservation of the cheetah in South Africa.
Leading the lessons were National Geographic moderator Joe Grabowski and scientists Laly Lichtenfeld, Vincent van der Merwe and Thandiwe Mweetwa.
Grabowski is an educator and scuba diver who brings science, exploration, adventure and conservation into North American classrooms through virtual speakers and field trips. He teaches science and math in Guelph, Ontario, Canada.
Lichtenfeld resides in Tanzania, Africa, and is cofounder of African People & Wildlife, which helps rural communities conserve and benefit from their wildlife and natural resources.
van der Merwe manages the Cheetah Metapopulation Project in southern Africa through the Endangered Wildlife Trust, relocating cheetah between 55 metapopulation reserves to retain genetic integrity and to identify new reserves for reintroduction.
Mweetwa is a Zambian wildlife biologist and conservation educator working to protect large carnivores in her home country with the nonprofit organization Zambian Carnivore Programme.