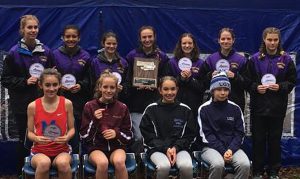 The Duanesburg girls cross country team won the Class D Sectional title at Saratoga Spa State Park on Friday, Nov. 2, defeating Berlin by 15 points.
The team ran well, with Elaine Atanasova placing 2nd, Jenn Skeeter placing 6th, Hanna Avery placing 15th, Alice Cole placing 19th, Jessica Archambeault placing 27th, Alanna Mitchell placing 45th and Haily Lawrence placing 71st.
The boys cross country team placed 5th in the Class D Sectionals, and Andy Drescher qualified for the state meet with a 2nd place finish. This is the second year in a row Andy qualified for the states. Sal Gallo and Porter Wilsey placed in the top 40 at the Sectionals, where 17 schools were represented.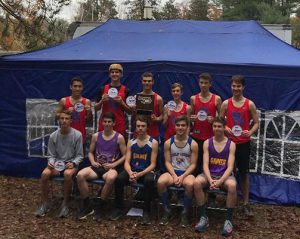 The team will represent Duanesburg and Section 2 at the New York State Cross Country Championship on Saturday, Nov. 10 at Sunken Meadow State Park on Long Island.
Congratulations to all of the runners and their coaches.