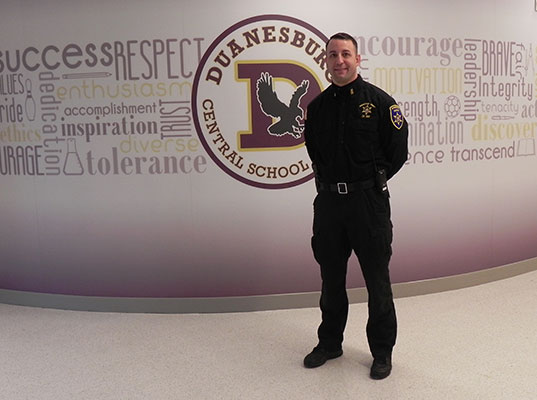 Duanesburg Central School District welcomes Schenectady County Sheriff's Department Deputy Eric Reyell as a School Resource Officer (SRO). He'll serve both campuses and has an office in the high school.
Deputy Reyell comes to DCS through a partnership with the Schenectady County Sheriff's Department, which is providing funding as part of a pilot program for the current school year. His flexible, part-time schedule may include evening events as well as a school-day presence.
"When Duanesburg, like many school districts, conducted a safety audit, the topic was raised of reinstating a school resource officer on campus," said Superintendent Frank Macri. "During the investigatory phase, the sheriff's department and district worked together to pilot the current SRO program.
"We are pleased to partner with the sheriff's department to reinstate an SRO at Duanesburg and have to Deputy Reyell on our campuses."
Prior to Board of Education approval, Deputy Reyell participated in a community meeting with other members of the sheriff's department. They met with parents, guardians and other local residents, who shared their insights.
Deputy Reyell has 16 years of experience as a police officer, including his current positions as a K-9 patrol officer and SRO and past positions as a patrol officer and narcotics investigator. "I'm very happy to take the position with Duanesburg," he said. "I'm happy to be part of the community."
During his free time, Deputy Reyell enjoys sports and particularly enjoys watching wrestling. He has two elementary school-age sons.
SROs are trained officers who serve as a positive role models who are focused on providing a safe school environment conducive to learning, deterring crime and providing early intervention. SROs assist with the flow of students, work with school staff and parents/guardians, and help address incidents that may occur on campus. 
SROs also work in partnership with other law enforcement officials. DCS is continuing its positive relationship with the New York State Police at the high school and elementary school. A number of years ago, the State Police funded an SRO who was shared between DCS and Sharon Springs Central School District until that funding ran out.
School and community partnerships with law enforcement promote positive relationships and safety while providing guidance and fostering connections to local services.
In the media
Read the Dec. 12 Daily Gazette article about Duanesburg's new SRO