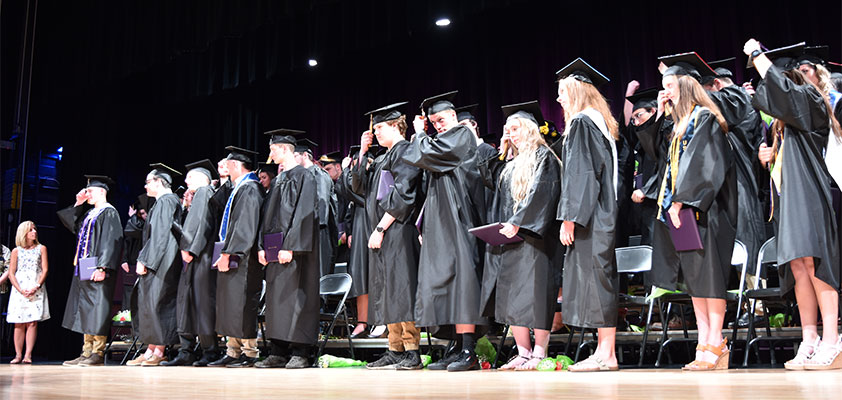 June 21, 2019 was a milestone day for 62 Duanesburg Jr./Sr. High School students as they turned their tassels and walked across the stage to the next stage in their lives at the Class of '19 graduation ceremony. 
Joe Bena Auditorium was filled with families, friends, DCS faculty and staff on a beautiful first evening of summer. Student Council Representative Olivia Faucett led the Pledge of Allegiance, and Class of 2019 Co-presidents Astrid Marz and Emily Schaeffer welcomed all. The Select Choir sang "The Star Spangled Banner," "Seasons of Love," "A Million Dreams" and the "Alma Mater."
Superintendent Frank Macri spoke of how far the students have come, what they make of their future and how far they could go. "Although given your name, each of you had the choice of defining what your name means," he said. "Continue to be learners, define your name."
Diplomas were awarded by Superintendent Macri, Board of Education President Camille Siano Enders and High School Principal Jodi  Marvin.
Hanna Avery gave a powerful Salutatory, telling her peers that hard times like the loss of her dad to heroin addiction can either "break us or empower us," and that they can "choose to be great" and "make powerful choices." She said that "we all face adversity . . .if you trip, you get up, dust yourself off and keep moving forward."
Jacob Harris gave an equally inspiring Valedictory, peppered with humor and recollections including memories of his first day at school. "We will prevail," he told his fellow graduates, even though many of the paths they face "will be pitch black." He spoke of overcoming the challenge of Asperger's syndrome and urged his peers to "pursue excellence over gratification."
"We will go forth," Jacob told the Class of 2019, "and we will be excellent."
Read the full text of the valedictorian and salutatorian speeches.
A graduation photo album is posted to the DCS Facebook page @duanesburgschools.
Special thanks to the Daily Gazette for covering graduation.
Families will be able to access images taken at graduation by iSmilestudios using the access code provided to them once they are posted by the studio.