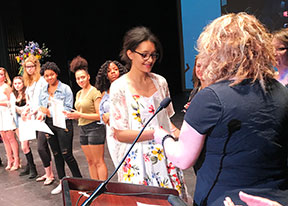 DCS senior and CTE Global Fashion Studies student Brianna Colucci was recognized for supporting others with a Bill Kress Humanitarian Award at a June 5 ceremony at Proctors in Schenectady for Albany CTE students.
Established in memory of a 2015 Albany CTE graduate, the Kress award honors a student "who is supportive of friends and acquaintances who need someone to listen to in tough times, someone who is kind and loving." Brianna was presented with the award by Diane Ogren, who is Bill Kress's mother and an Albany CTE staff member.
Brianna was also awarded a SkillsUSA Area III Scholarship at the ceremony, where she sang the national anthem to a packed house of students' families, friends, classmates and CTE faculty and staff.