Duanesburg Elementary students are using their new B.R.A.V.E.S. skills to make their school a bully-free zone. Here's an update by reading teacher and PBIS coach Polly Benjamin.
What happens when you mix silly costumes, "big kid" buddies and time to play? You learn what to do when you see someone being bullied! On Sept. 24, Sweethearts and Heroes visited DES to launch their new program B.R.A.V.E.S. Thanks to their ongoing training, a team of 11 sixth graders and two fifth-graders have worked to create bully drills and teach younger students about bully prevention by "playing" through the drills. 
Two months later, this pilot program is in full swing. The fifth and sixth graders on the B.R.A.V.E.S. team are meeting with students in Ms. Stecher's first grade, Mrs. Walsh's second grade and Mrs. O'Neill's third grade classrooms approximately once a week. 
During these visits, they connect with the students and act out planned scenarios to teach the younger students what to do when they see bullying happening. 
Grounded in play research by Stuart Brown, the B.R.A.V.E.S. program designed by Sweethearts and Heroes gives children time to play their way through different realistic bullying scenarios with older kids leading the fun. So far, our B.R.A.V.E.S. have shared bully drills that teach kids to take the target away from a bully, and to be a buddy to someone they see targeted with bullying. 
The B.R.A.V.E.S. students have achieved a nearly hero status themselves with the younger kids they meet. "Look!  Here comes the B.R.A.V.E.S!" said one first grader when she saw the group heading through the hallway for a visit.
It is amazing to see the sixth graders transform in their leadership role. We are really seeing kids excel in new ways as they work to connect with the younger students. 
The continuation of the B.R.A.V.E.S. program is facilitated by PBIS coaches Bridget Minute and Polly Benjamin, as well as sixth grade teacher and B.R.A.V.E.S. champion Christina Stryjek. For more information, read our website article from Sept. 24.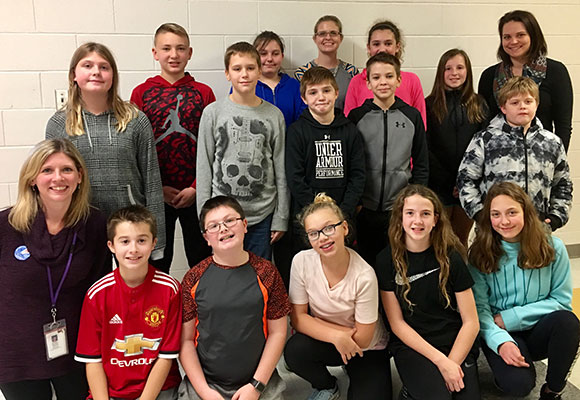 The B.R.A.V.E.S. team includes: Dane Ashdown, Chloe Galvin, Colin Hamel, Johnna Whiting, Becca Wright, Abigail Hart, Jeffrey Mulhern, Hailey Rose, Samantha Weston, Tyler Howe, Lourdes LaVare, Kaid Oddy, Preston Volker and Evan Burns with teachers Christina Stryjek, Bridget Minute and Polly Benjamin.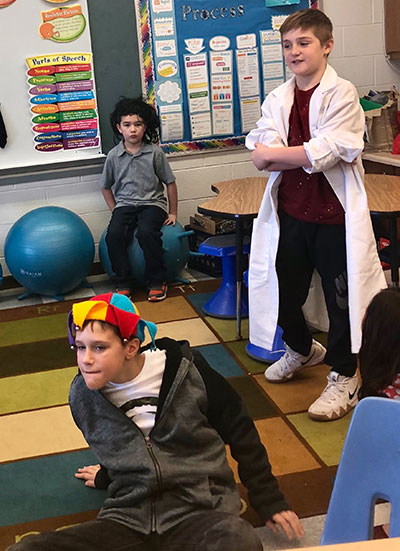 B.R.A.V.E.S. Preston Volker and Dane Ashdown with third grader James Gauvin. During B.R.A.V.E.S. visits, students dress in silly costumes to act out bully scenarios. This helps them get comfortable feeling vulnerable with their peers.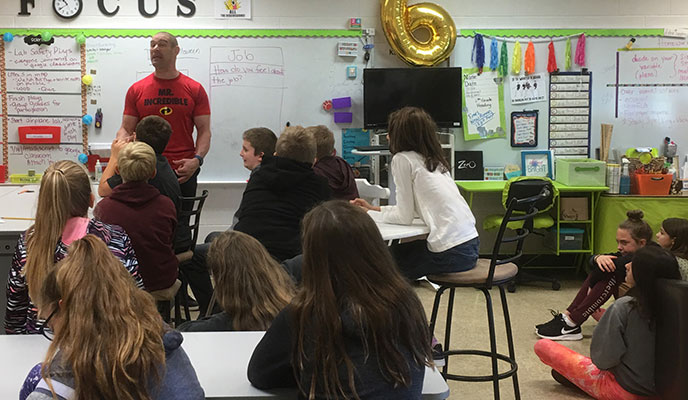 Tom Murphy of Sweethearts and Heroes talks with sixth graders about empathy and leadership during his visit in September. The B.R.A.V.E.S. have been exchanging videos and reviewing feedback from Mr. Murphy using an online educational tool called Flipgrid.