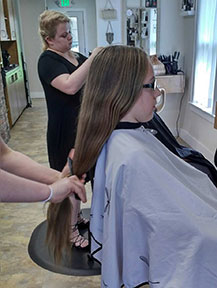 Things got a little hairy at a Duanesburg Elementary Community Service Club event recently, but that was a good thing. On Saturday, May 5, students, faculty, staff, families and the community gathered at Turnpike Tresses for a cutathon to help people with cancer.
More than 15 people made donations to have their hair cut at the salon that day, and 17 ponytails were provided to Pantene for creating wigs for people with cancer.
Overall, more than $615 was raised for the cause through the cutathon and a bake sale, prize drawing, and pizza sale with pies donated by Jonathan's.
Third-grade teacher Theresa McCabe serves as co-advisor of the Community Service Club with fourth-grade teacher Erin Goodwin.
McCabe gave special recognition to the Menzies family and said, "they are 'a cut above' the rest, with the two [elementary-age] daughters and mother donating their hair. Their father, Joshua, who's a DCS Board of Education member, quoted James Russell Miller as saying, 'Nothing else in all life is such a maker of joy and cheer as the privilege of doing good'."